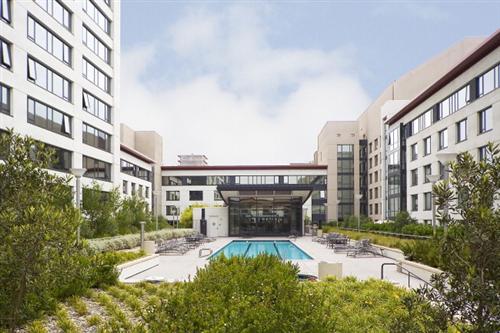 While the legal filing and plaintiffs tell one side of the Beacon's story, a reader tells another (and reinforces an earlier anonymous comment):
I know that The Beacon had a couple of problems, but most had been fixed (the roof was repaired months ago and has been fine). The ownership held a meeting with the homeowners last week and vowed to fix any other problems and *apologized* (when did an owner ever do that) for the third party who did the warranty work. They also extended the warranty for *every* homeowner (even if their warranty had already expired) as a show of good faith.
Earlier this year, the owners of The Beacon (not the developer, that was Catellus who sold the building) committed over $400,000 to redo the courtyard from the old Catellus design. Right before work was supposed to get started, they got sued. Last week they said that they would continue with the project despite the lawsuit because they didn't want to penalize the majority of residents for the action of a few.
I hope they don't think that these few people speak for the majority of residents because they are a pretty good group of people who a very fair and reasonable. Not every building's perfect, but at least The Beacon has a group that is committed to fix things without lawyers or years of court dates.
And while this obviously doesn't address some of the larger design issues (e.g., ventilation and overheating), it does paint a much different picture of the building's management and state of (dis)repair.
∙ The Beacon Twenty-Two (And Their Dirty Laundry) [SocketSite]