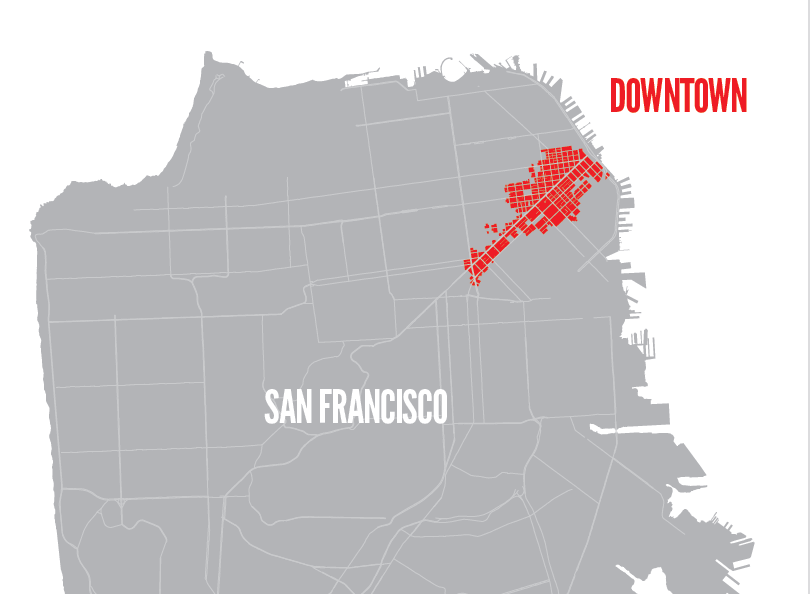 Having emerged from "growing public awareness during the 1970's that development threatened the essential character of downtown San Francisco," San Francisco's adopted Downtown Plan states that, "without sufficient and appropriate housing to serve new commercial development, local housing costs would increase, thereby compromising the vitality of downtown."
The Plan's vision is to create a vibrant district known the world over as a center of ideas, services, and trade, and as a place rich in human experience – characteristics that are true of all great cities. The essential components of such places are a compact mix of activities, historical values, distinctive architecture, and urban form that engenders the special excitement of a world city. To achieve this vision, the Plan's objectives and policies guide land use decisions to create the physical form and pattern of a livable, compact, and pedestrian-oriented downtown.
And when San Francisco's Board of Supervisors approved the Downtown Plan in 1985, the Board also required that the Planning Department prepare periodical monitoring reports to track the plan's performance and make adjustments if required.
According to the Planning Department's latest monitoring report, of the 50,000 units of housing in San Francisco's development pipeline, nearly 9,000 (17 percent) are slated to be built within San Francisco's Greater Downtown with 29% of those units under construction and 27% having already been approved or issued a building permit.
And while the vitality of downtown doesn't seem to have been compromised, but local housing costs have increased, we'll let you decide if the number of units in the pipeline is "sufficient and appropriate" and if the plan's vision is being realized.