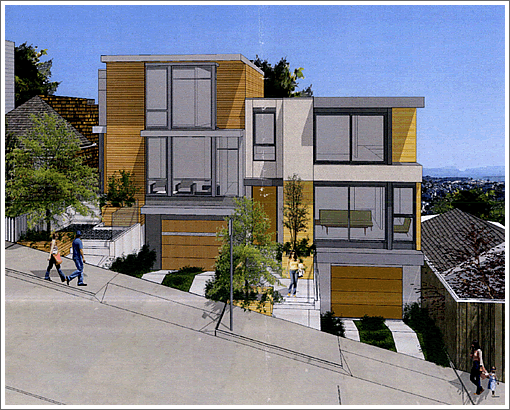 As proposed, the existing two-story house at 2123 Castro Street which was built in 1912 will be demolished in order to make way for a contemporary, three-story home to rise with designs for it to be a certified Net-Zero Energy (NZE) building.
Despite a building size of over 3,670 square feet including the garage, the proposed Noe Valley home will not have a furnace nor air-conditioning and will be "passive" in design, a super-insulated structure with an air-tight building shell which will primarily derive its heat from the sun and people inside, the first new passive house in San Francisco.
A second three-story home of equally efficient and ambitious design is proposed to rise on the adjacent 2127 Castro Street parcel, upon which the 500-square-foot garage for the existing home at 2123 Castro Street currently sits.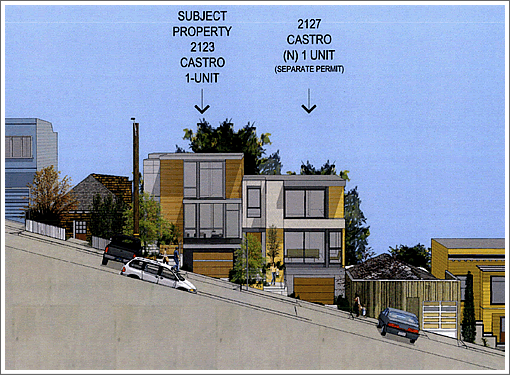 Opposing the project, a nearby neighbor and 44 signers of a petition who are concerned that the development will replace affordable housing with high-cost housing and that the scale and design of the buildings are out of context with the neighborhood: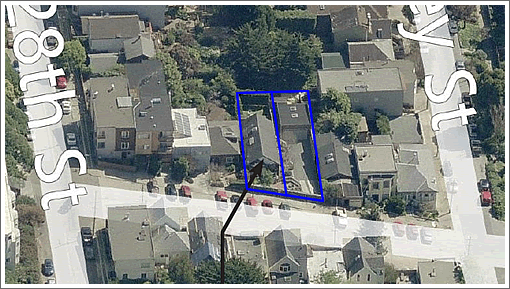 Keep in mind that the existing "affordable home" at 2123 Castro Street has recently been appraised for $1,525,000 and neither of the neighbors in the adjacent single-story homes to the north and south of the proposed project are opposed to the plans.
San Francisco's Planning Commission is slated to issue a decision with respect to the proposed plans for 2123 Castro Street this week with the Planning Department's recommendation that they be approved.
The proposed sister building at 2127 Castro Street is following under cover of a separate permit.