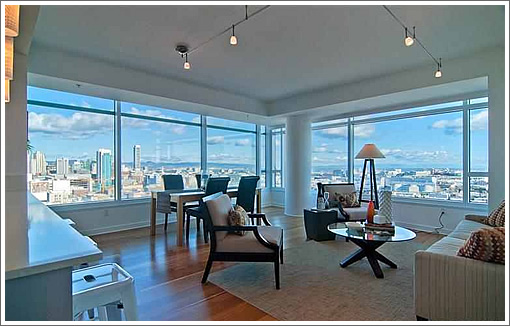 Purchased as new for $1,160,000 in 2008, the 1,146 square foot southeast corner condo on the 18th floor of the 22-story SOMA Grand resold for $1,198,000 a year ago next month.
Six months later, the two-bedroom hit the market listed for $1,289,000, a price which was reduced to $1,199,000 two months ago.
Yesterday, the sale of 1160 Mission Street #1806 between 7th and 8th Streets ("in the heart of SOMA's Tech Belt") closed escrow with a reported contract price of $1,175,000, fifteen grand more than in early 2008 but twenty-three grand less than a year ago.
While the condition of the condo was "apples-to-apples" with respect to the sales, keep in mind that the SOMA Grand's homeowners association filed suit against the building's developer, builder, and architects eight months ago, a fact that can affect financing and limit the pool of potential buyers.