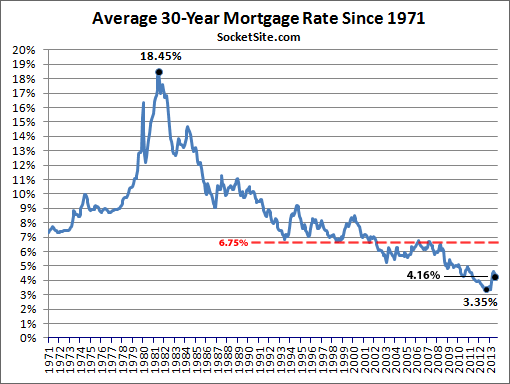 The average rate for a conforming 30-year mortgage ticked up to 4.16 percent last week, up 6 basis points from the four month low of 4.10 percent last week on the heels of the federal shutdown and a softening housing market. The current rate remains 42 basis points below the two-year high of 4.58 percent in August, 81 basis points above the near-historic low of 3.35 percent in May.
The average 30-year fixed mortgage rate was 3.40 percent at this time last year having averaged 6.75 percent since 1990 and 8.61 percent over the past 40 years.
In terms of the 30-year rate for Jumbo loans over $625,500, Wells Fargo is currently advertising a rate of 4.00 percent, a discount of half a point as compared to the 4.50 percent rate they're advertising for super conforming loans over $417,000 in high cost areas like San Francisco, a discount of 0.375 points compared to a 4.375 percent rate for regular conforming loans.
∙ Fixed Mortgage Rates Rebound Higher [Freddie Mac]
∙ Spike In Sales Due To, Rather Than Despite, A Spike In Rates [SocketSite]