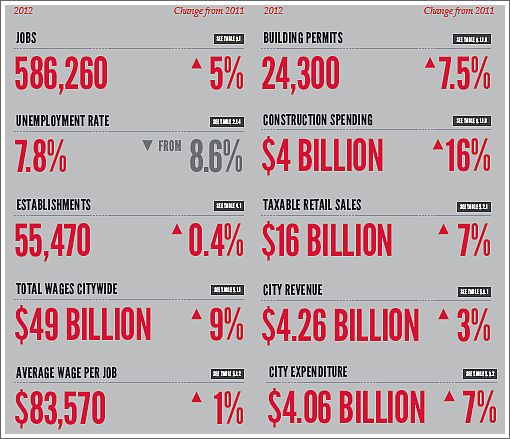 The summary bullet points from the Planning Department's just completed 2012 Commerce and Industry Inventory for San Francisco which covers a 10-year time-series of data, including population, employment, wages, business growth, retails sales, government expenditures/revenues, building, and transportation trends:
• Employment, the simplest key indicator of economic activity, grew 5% in 2012 to 586,250 jobs (27,250 additional jobs versus 2011) while the unemployment rate fell to 7.8% from 8.6%. [Editor's Note: As plugged-in people know, the unemployment rate in San Francisco is now under 6% and employment is up by 16,600 jobs on a year-over-year basis, up by 49,400 since 2010.]
• The number of business establishments increased slightly in 2012 to 55,470 firms, 0.4% growth over 2011.
• Workers' earnings in the San Francisco economy increased to $49 billion, almost 9% over 2011, with average earnings per job increasing to $83,500 per worker, up 1% since last year.
• Building permit applications increased by 7% over 2011 levels to 24,300 applications in 2012 and the estimated value or spending those projects represent in terms of project cost (not all of which will be spent locally in San Francisco) increased to $4 billion, or 16% over 2011. [Editor's Note: San Francisco's current construction pipeline.]
• Taxable retail sales increased 4% over 2011 levels, to $16 billion in 2012.
• City revenue was $4.26 billion in 2012, up 3% over 2011. City expenditures were $4.06 billion in 2012, up 7% from last year.
San Francisco's population was estimated to have hit 825,100 in 2012, up 1.5% from 2011, with daily transit ridership at roughly 664,326 trips, up 1.1% since 2008 with ridership on the 9-San Bruno line up 25 percent since 2008 and the most used transit line in the City with 59,900 daily trips. The 38-Geary is the second most used Muni line in the city with 55,000 daily trips.
The full report will be presented to San Francisco's Planning Commission next week.
∙ San Francisco's 2012 Commerce and Industry Inventory [sfplanning.org]
∙ Unemployment Drops In San Francisco, But Employment Drops As Well [SocketSite]
∙ The 48,000 San Francisco Units In The Works By Neighborhood [SocketSite]