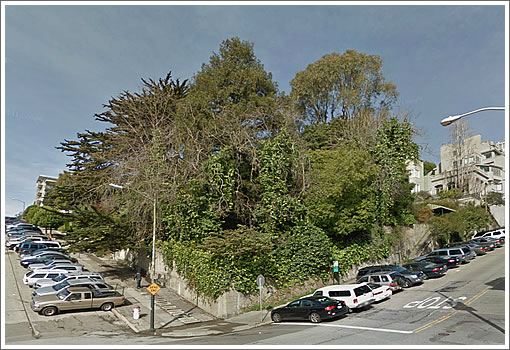 As plugged-in people know, the undeveloped parcel of Russian Hill land on the northwest corner of Broadway and Taylor was foreclosed upon last year. As plugged-in people also know, there are some rather spectacular plans for developing the lot known as 1000 Broadway, the designs for which have now been rendered.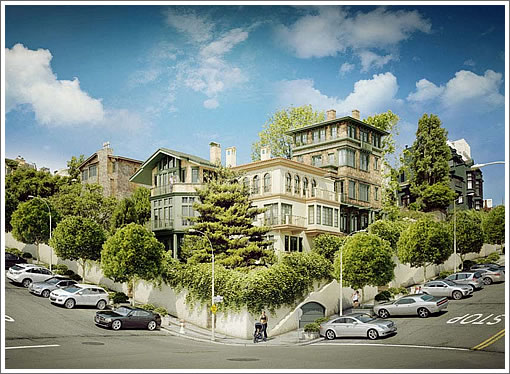 As designed by Page & Turnbull, two single-family homes and two condominiums with a total of over 15,000 square feet of space and a garage for up to 16 cars (including six spaces for adjacent homes) would rise on the corner, dubbed the "Wysteria" development.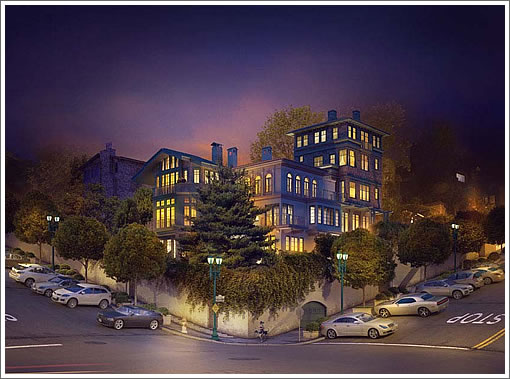 And the parcel and plans can now be yours, if your price is right rather than frivolous.

Having lent $15,000,000 against the parcel in 2008, the group which wasn't repaid is now accepting sealed bids for the property with offers due by August 1, 2013, explicitly noting an unwillingness to accept an offer "that is patently frivolous or substantially below market value."
The approvals and permits needed to subdivide and develop the parcel as rendered are all "Pending" according to the offering, but confidentiality agreements are required to learn more.
∙ Offering: The Wysteria Project (1000 Broadway) [wysteriaresidences.com]
∙ Calling All Billionaires Looking To Build Something Big On Broadway [SocketSite]
∙ Building Plans For The Point One Percent On Broadway And Taylor [SocketSite]