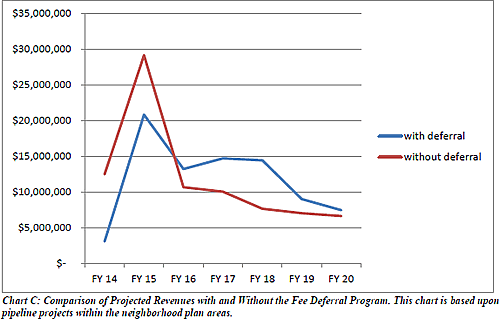 In 2009, near the nadir of requests for new building permits in San Francisco, Mayor Newsom initiated a fee deferral program for developer in an effort to provide an economic stimulus for new construction projects, a program which was adopted on July 1, 2010.
Development impact fees are typically collected at one of two points: either at the issuance of a permit to build or at the building's Certificate of Occupancy. The deferral program allowed developers to defer the paying of impact fees due at the time of permitting until the certificate of occupancy was issued, typically a two year delay.
Since the program was adopted, there have been 107 building applications subject to development impact fees and/or in-lieu fees. Of these 107 applications, 68 project sponsors elected to defer fees. These 68 projects were assessed over $86 million worth of fees—the vast majority of the $93 million worth of impact fees assessed during this period. So while only 63.6% of the project sponsors who were eligible to defer fees chose to do so, the project sponsors who did defer had the projects with the largest fees, resulting in deferral of 92.5% of all impact fees eligible for deferral.
In total, roughly $68 million worth of fees were deferred, which included $40 million earmarked to support the development of affordable housing in San Francisco, $7 million for improving local transit and flow, and another $7 million to mitigate the impact of new developments in SoMa and Rincon Hill.
Set to expire on July 1, 2013, this week San Francisco's Planning Commission is slated to decide whether they believe "the stimulative effects of the Fee Deferral Program are still needed" or if the program should be allowed to expire and impact fees for future developments should be collected and put to use sooner rather than later.