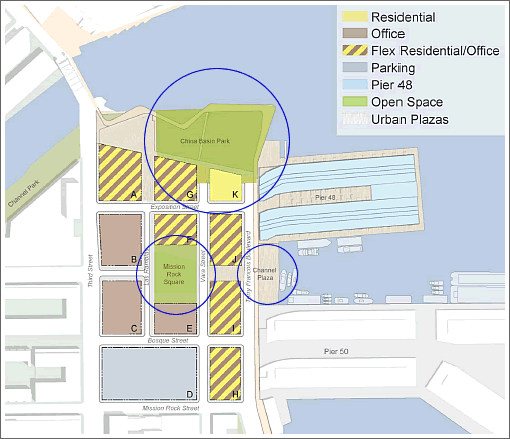 As part of the Giants' proposed Mission Rock Development, a new park, plaza and public square at the heart of the development will be built on eight of the area's 27-acres.
Originally constructed as part of the AT&T Park project, China Basin Park will be expanded to 5-acres with a waterfront great lawn and special event area, a waterfront café with outdoor seating, a junior baseball field, gardens and picnic areas, and a promenade connection to the new Channel Plaza between Piers 48 and 50.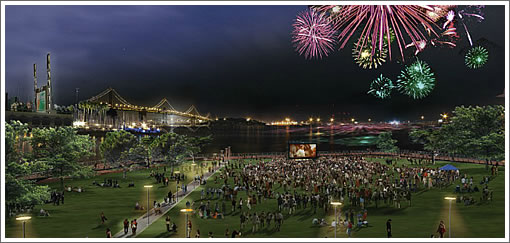 The area between Piers 48 and 50 will be converted into a hardscaped ½-acre "Channel Plaza" with views of working vessels and other maritime uses.
And at the heart of the development, Mission Rock Square will be a 1.3-acre park with a multi-use lawn, plaza, and café pavilion framed by a mix of residential and commercial uses, including ground-floor retail with a pedestrian connection to Channel Plaza.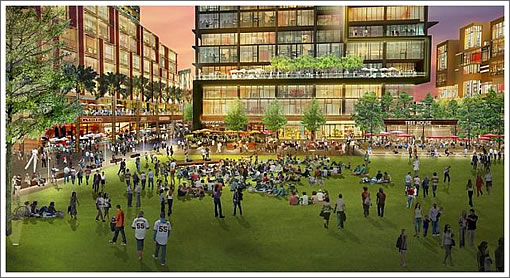 The park and open spaces will be owned by, and remain under the jurisdiction of, the Port but managed and programmed by the Giants subject to Port approval. Maintenance of the parks and open spaces will be funded by special taxes imposed on the development.
Plug in tomorrow Wednesday for the proposed financial terms, project phasing, and block-by-block heights for the Giants' Mission Rock Development to rise.
∙ Giants Moving Forward With Massive "Mission Rock" Development [SocketSite]