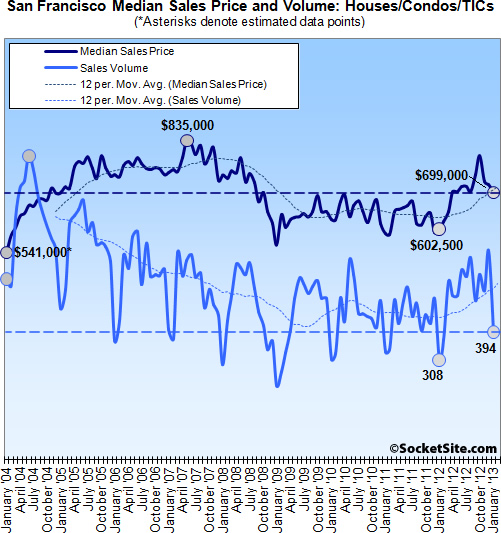 Recorded home sales in San Francisco rose 27.9% on a year-over-year basis last month (394 recorded sales in January 2013 versus 308 sales in 2012 and a seven-year seasonal high), down 39.0% as compared to the month prior and versus an average December to January seasonal drop of 34.3% over the past eight years. An average of 339 San Francisco homes have sold in January since 2004 when recorded sales volume hit 558.
San Francisco's median sales price in January was $699,000, up 16.0% on a year-over-year basis, down 2.9% as compared to December in which the median was up 21.1% year-over-year.
For the greater Bay Area, recorded sales volume in January was up 3.2% on a year-over-year basis, down 29.8% from the month prior (5,501 recorded sales in January '13 versus 5,330 in January '12 and 7,832 in December '12) on a recorded median sales price which was up 27.3% year-over-year, down 6.3% month-over-month.
A drop in the median sale price from December to January is normal for the season. At least half of the year-over-year increase in the January median is the result of changes in market mix, with sales shifting away from low-cost distress homes toward more mid-market and move-up homes.
The median reached a high of $665,000 in June/July 2007 and then fell to a low of $290,000 in March 2009. On a year-over-year basis, the median dropped more than 30 percent each month from August 2008 through May 2009. At the median's current rate of increase, it will recover about half of its peak-to-trough loss sometime this spring.
At the extremes, while San Francisco recorded a 27.9% increase in sales volume (a gain of 86 transactions), Sonoma recorded a 5.9% decrease (a loss of 25 transactions). Within the Bay Area, the median sales price moved the most in Santa Clara, up 31.6% on a year-over-year basis.
As always, keep in mind that DataQuick reports recorded sales which not only includes activity in new developments, but contracts that were signed ("sold") many months or even years prior and are just now closing escrow (or being recorded).
∙ Bay Area Housing Market Continues Off—Bottom Bounce [DQNews]
∙ Recorded San Francisco Sales Volume Hits Six-Year Seasonal High [SocketSite]