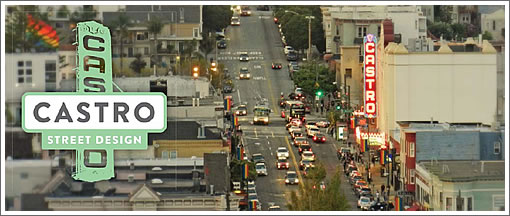 Back in 2011, San Francisco voters passed the Road Repaving and Streets Safety Bond, funds from which were allocated toward the design and construction of Castro Street improvements between Market and 19th Streets, the Castro Street Design Project.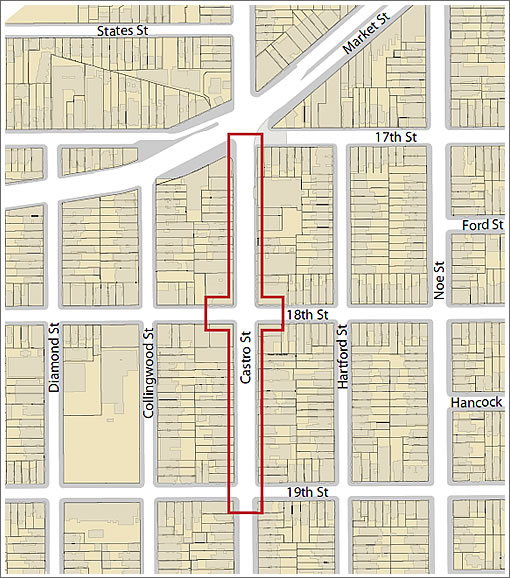 From the Planning Department:
Castro Street's existing design does not adequately accommodate the needs of the thousands of residents and visitors who use the street every day. Pedestrian safety and comfort are of special concern given the high volume of pedestrians combined with narrow sidewalks and busy street intersections. The Castro/Upper Market community has actively pursued opportunities to improve Castro Street, including recent planning efforts such as the Castro/Upper Market Community Benefit District's Neighborhood Beautification and Safety Plan and the San Francisco Planning Department's Upper Market Community Plan.
The Castro Street Design Plan will build off these previous efforts and develop a conceptual design that balances the needs of its users and enhances the street as one of San Francisco's premier destinations for locals and visitors alike. The conceptual design will be used to define a first phase set of improvements to be built with funding coming primarily from the Road Repaving and Streets Safety Bond…
A presentation of the preliminary design concept for Castro Street and an opportunity for the public to provide feedback will be held on January 23, 2013 from 6:00-8:00PM at the Eureka Valley Recreation Center with hopes of finalizing a design concept by the end of April and a construction schedule this spring.
∙ Castro Street Design Project [sf-planning.org]