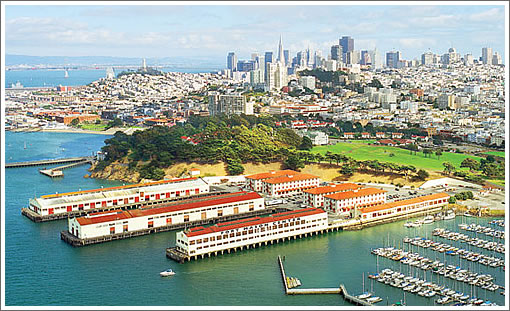 As we reported earlier this year, while there's currently no budget to implement the plans, invitations were sent to a select group of firms to participate in a design competition for "creative and practical" concepts to "enliven and integrate" the 13-acre waterfront campus that is San Francisco's Fort Mason.
Designed by the military with gates and retaining walls to separate the Fort from the city, ideas for improving the Fort's connection is a key element on which concepts were to be judged. And from the rough concepts submitted by invited firms, three finalists have been selected and their designs are now on display at the Fort Mason Center as well as online.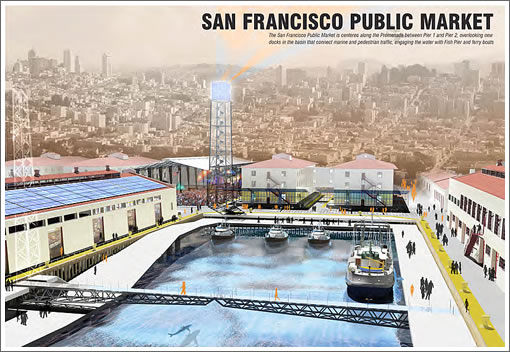 The proposals include a full-time public market with an aerial transporter and bridge connecting the upper and lower parts of the Fort (the Bruner/Cott concept); floating swimming pools and bridges (the West 8 concept); and a reformed ship which would be permanently docked at the Fort as a floating hotel (the AMP Arquitectos concept):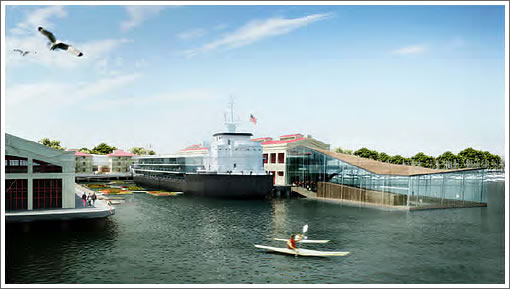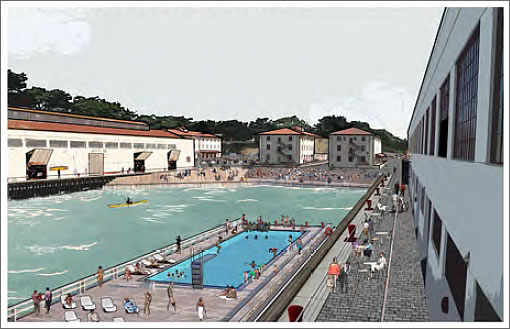 Each of the final three designs will be evaluated based on "design merit and the positive impact the proposal will have on the center," and a winner will be announced. But once again, at the moment they're not competing for anything other than bragging rights.
∙ Fort Mason Design Competition Finalist Designs: Bruner/Cott | West 8 | AMP Arquitectos