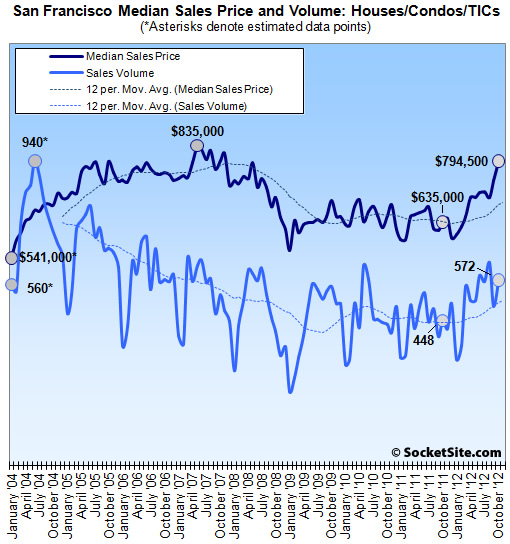 Recorded home sales volume in San Francisco rose 27.7% on a year-over-year basis last month (572 recorded sales in October 2012 versus 448 sales in October 2011), up 16.3% as compared to the month prior and versus an average September to October increase of 1.6% over the past eight years. Since 2004, an average of 543 San Francisco homes have changed hands in the month of October.
San Francisco's median sales price in October was $794,500, up 25.1% on a year-over-year basis, up 6.6% as compared to September.
For the greater Bay Area, recorded sales volume in October was up 21.0% on a year-over-year basis, up 13.8% from the month prior (7,795 recorded sales in October '12 versus 6,444 in October '11 and 6,650 this past September) with a recorded median sales price which was up 18.9% year-over-year, down 3.0% month-over-month.
In the words of DataQuick President John Walsh, "it's unclear exactly much of today's apparent price increase reflects actual growth, and how much reflects a change in market characteristics" (i.e., mix).
Last month distressed property sales – the combination of foreclosure resales and "short sales" – made up about 33 percent of the resale market. That was down from about 38 percent in September and down from about 63 percent in October 2011.
Foreclosure resales – homes that had been foreclosed on in the prior 12 months – accounted for 12.0 percent of resales in October, down from a revised 14.1 percent in September, and down from 25.3 percent a year ago. Last month was the lowest since foreclosure resales were 10.1 percent in November 2007. Foreclosure resales peaked at 52.0 percent in February 2009. The monthly average for foreclosure resales over the past 17 years is about 10 percent.
Short sales – transactions where the sale price fell short of what was owed on the property – made up an estimated 21.4 percent of Bay Area resales last month. That was down from an estimated 23.5 percent in September and down from 24.9 percent a year earlier.
All nine Bay Area counties recorded sales volume gains in October with Napa leading the pack on a percentage basis (a gain of 50 transactions, up 49.0 percent) and Alameda in terms of transactions (a gain of 310, up 23.7 percent).
As always, keep in mind that DataQuick reports recorded sales which not only includes activity in new developments, but contracts that were signed ("sold") many months or even years prior and are just now closing escrow (or being recorded).
∙ Bay Area Home Sales and Prices Up [DQNews]
∙ San Francisco Home Sales Slip Seasonally But Spike Year-Over-Year [SocketSite]