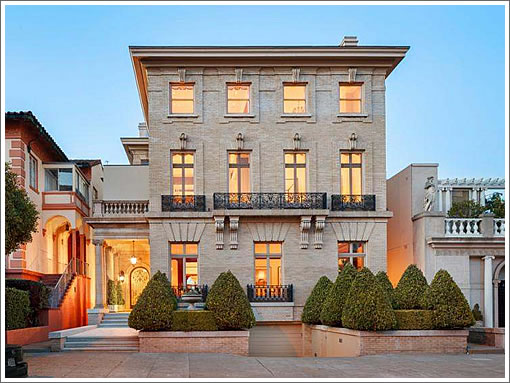 As we reported last month:
Despite a $2,500,000 price cut to $17,500,000 in April, just prior to serving as San Francisco's 2012 Decorator Showcase home (as it was in 1991 as well), the listing for the 11,500 square foot Hellman Mansion at 2020 Jackson Street [was] withdrawn from the MLS without a reported sale after 381 days on the market.
As plugged-in people know, the Julius Kraft designed property was built in 1902 as a wedding gift for Wells Fargo Bank President Isaias Hellman's daughter and is owned by the Catherine Schwab Revocable Trust which purchased the property for $15,000,000 in 2004.
On Saturday, 2020 Jackson Street was listed anew with an official "one day" on the market and an "original list price" of $14,900,000, a skosh below its sale price in 2004.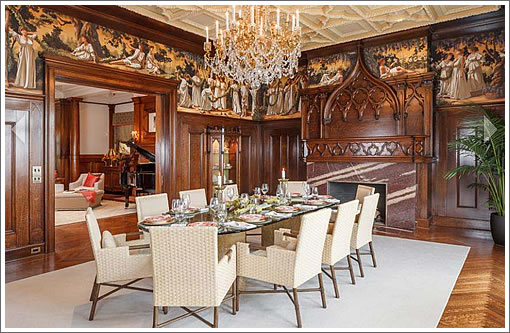 The dining room frieze remains intact post-showcase and the kitchen(s) remodeled.
∙ Listing: 2020 Jackson Street (7/7.5) 11,500 sqft – $14,900,000 [2020jacksonst.com]
∙ Designer Remnants Redux: Schwab's Showcase Home Withdrawn [SocketSite]
∙ A Pre-Showcase $2,500,000 Price Cut For 2020 Jackson [SocketSite]
∙ Showcasing 2020 Jackson Street [SocketSite]
∙ The Hellman Mansion Officially Hits The Market Listed For $20 Million [SocketSite]
∙ 2020 Jackson's Storied Past (And Currently Staging) [SocketSite]
∙ Designer Remnants On Vallejo [SocketSite]
∙ 2012 Decorator Showcase Sneak Peek And Kitchen Before And After [SocketSite]