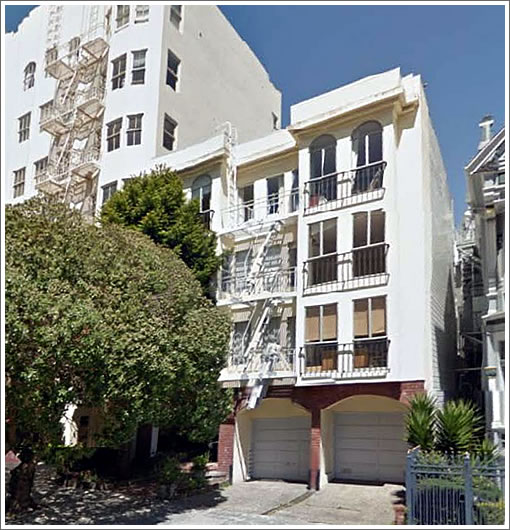 As proposed, a story would be added atop the four-story building at 1856 Pacific Avenue and its façade redesigned, resulting in a 55-foot building within an 80-foot height district.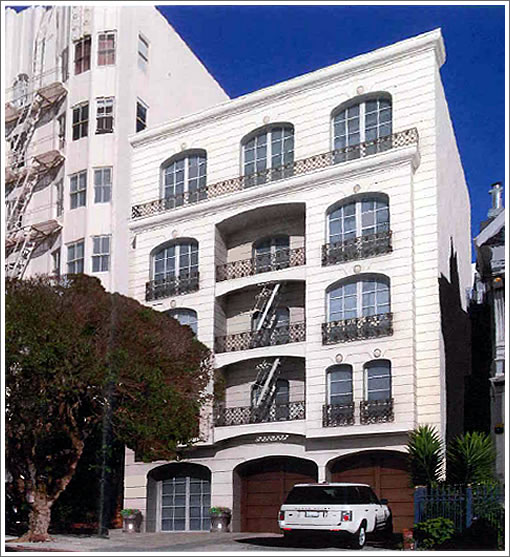 In the words of the owners of 1870 Pacific Avenue, the 7-story building directly adjacent to the west of 1856 Pacific Avenue, and the residents of 1870 Pacific Avenue apartment number 505 whose lot line windows would be blocked by the addition, all of whom are opposing the project in the form of a requested Discretionary Review (DR):
The project does not provide decent light, air, privacy or convenience of access to our adjacent property located at 1870 Pacific Avenue.
This project creates exceptional and extra ordinary circumstances that justify a DR, including, but not limited to infill of 2 (or more) windows on our property, elimination of light, air, views from 4 (or more) windows. Project diminishes the quality of 4 (or more units), which effects 8 (or more) residents. The project [greatly] diminishes privacy for the 2 (or more) units.
Our property is the adjacent building to the west of the subject property. We were not consulted on the proposed plan.
In the words and opinion of San Francisco's Planning Department:
The [Residential Design Team] did not find exceptional or extraordinary circumstances with regard to the DR requestors' concerns regarding the potential loss of light and air access, loss of privacy and safety, and increased noise.
As property line windows and private views are not protected under Planning and Building Codes, and the project is a residential use, the project is within the minimum standards of the Residential Design Guidelines to be expected when a reasonable building expansion is proposed. The proximity of the project to the adjacent building is also within the reasonable tolerances to be expected when living in a dense urban environment such as San Francisco, and particularly the RM-3 Zoning District which is zoned to allow high-density residential buildings. Furthermore, the project proposes a 55-foot tall building within an 80-foot height district.
The property line windows that will be affected by the project are not the primary windows to the Requestors' units, as the dwelling units on each floor also contain windows that face onto the street, the rear yard and/or a large existing lightwell; these windows will continue to provide considerable light and air access to the Requestors' units.
The Planning Department recommends San Francisco's Planning Commission reject the Discretionary Review of 1856 Pacific and approve the project as opposed. We recommend buyers, or renters, of buildings with lot line windows understand the risks involved.
∙ Discretionary Review: 1856 Pacific Avenue [sfplanning.org]