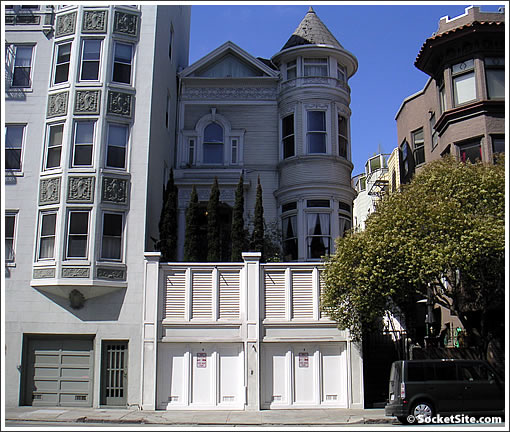 Once again, previous owners of the Pacific Heights home at 1945 Franklin Street have included Nicholas Cage and Patricia Arquette. And as plugged-in people know, the infamous Excalibur with "ACQUIRE" license plates currently resides in the garage.
As we reported when 1945 Franklin was scheduled to be un-acquired on the courthouse steps last year:
Purchased in June of 2005 for $3,000,000 by way of a $2,350,000 first mortgage and a $790,000 construction loan second (yes, that's over 100% financed), the property was refinanced in September 2006 to the tune of $5,000,000 to which a $500,000 home equity line of credit was added three months later.
Scheduled to hit the courthouse steps [in 2009] with $5,684,086 owed as of [that August], the balance due on the $5,000,000 first was up to $6,157,795 as of [January 2011]. And no, we don't believe any payments have been made since.
Having received a last minute reprieve two weeks ago, and with over $6,594,973 then owed on that $5,000,000 first alone, the title to 1945 Franklin was taken back by the bank yesterday with no bidders at $3,235,600 in cash on the courthouse steps.
No word from the now ex-owner who runs a boutique investment bank advising clients in ways to borrow money and appears to have walked away with well over $2,000,000 that had been borrowed against the house along with a few years (and counting) of payment free living in Pacific Heights.
∙ On The Verge Of Being Un-Acquired. Again. [SocketSite]
∙ How To Acquire "Free" Money: Borrow, Then Don't Pay It Back… [SocketSite]
∙ 1945 Franklin On The Verge Of Being Un-Acquired [SocketSite]