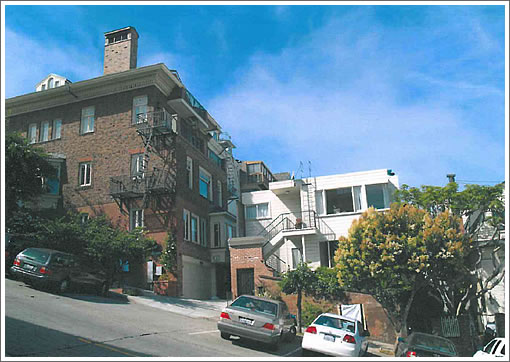 The 6,249 square foot brick home at 2300 Vallejo Street was built in 1899. In 1956, a 1,384 square foot two-story duplex was built in 2300 Vallejo's backyard. And in 1996, a substandard lot variance was granted and the two-story building at 2833-2835 Fillmore Street came to rest on its own 788 square foot lot.
In 2009, the owner of the two properties proposed to merge the two lots back together, demolish the duplex on Fillmore, and build a 555 square foot one-story residence as an addition to 2300 Vallejo with a garage and a 951 square foot deck spanning the building's roof for use by both buildings.
Having abandoned the plans for the proposed merger and addition, the owner of the two Pacific Heights properties is now proposing to simply demolish the existing two-unit building on Fillmore and build a smaller two-unit building with a shared roof deck extending over the property line between 2833 Fillmore and 2300 Vallejo in its place.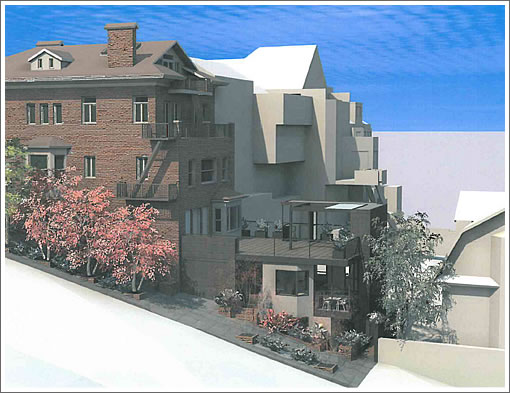 The proposed project isn't opposed by any neighbors, in fact, many have written letters of support. The project is, however, being opposed by San Francisco's Planning Department.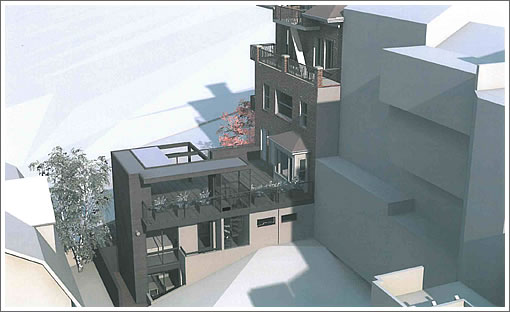 The Department's basis for recommending San Francisco's Planning Commission deny the proposed demolition and rebuilding of 2833 Fillmore Street this week:
1. The proposal would not preserve existing housing or conserve neighborhood character. The project proposes to demolish two, two-bedroom, rent controlled units and replace them with two new studio units, one of which will not have adequate exposure.
2. The project will not result in a net gain of dwelling units.
3. The project will result in a net loss of bedrooms.
4. The project will not create family-sized dwelling units.
5. The proposal will demolish two "naturally affordable" units that are also subject to rent control.
6. The subject property is at its maximum density for this zoning district; this project cannot be considered infill housing on an under-utilized lot.
With respect to what constitutes a "naturally affordable" two-unit building in San Francisco, the current threshold is $1.9 million. The Fillmore Street duplex last appraised for $1.35 million in 2009. We'll note the owner of the two properties is proposing to permanently designate the two new studios as below market rate (BMR) housing stock if his plan is approved.