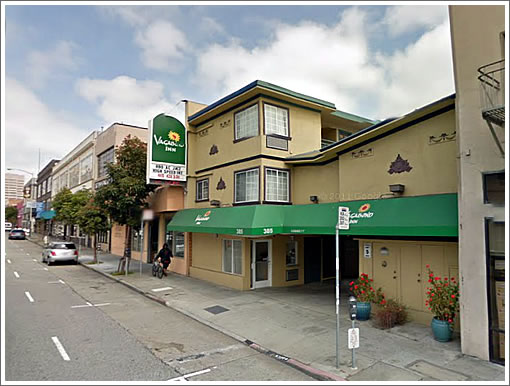 As we first reported and warned this past May:
…the Vagabond Inn at 385 9th Street is scheduled to hit the courthouse steps in San Francisco this afternoon with an opening bid of $269,612. But budding hipster hoteliers take note, it's the $250,000 second mortgage that's foreclosing.
While a courthouse sale today would wipe out the $120,000 third, the $1,462,500 first mortgage on the property would remain. And yes, the first is currently in default as well, by $1,183,244 as of last month.
The move by the second mortgage holder to foreclose was subsequently cancelled.
As a plugged-in tipster notes, and no plugged-in reader should be caught by surprise, the first mortgage holder is now foreclosing with an auction scheduled for this afternoon, $1,344,714.78 now owed, and the second and third mortgages likely to be wiped out.
∙ Hipster Hotelier Wannabes Take (Second) Note [SocketSite]
∙ Failing Grades In Auction Buying 101 (And Commenting) [SocketSite]