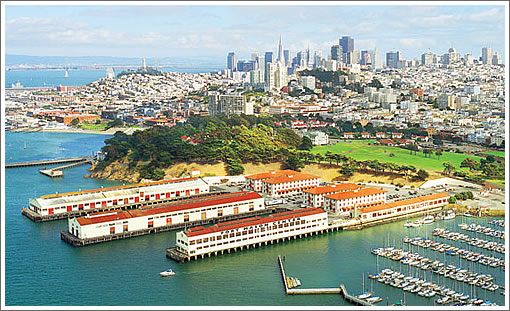 While there's currently no budget to implement, invitations have been sent to a select group of firms to participate in a design competition for "creative and practical" concepts to "enliven and integrate" the 13-acre waterfront campus that is San Francisco's Fort Mason.
While Fort Mason Center has been successful in offering programming and events that are diverse and engaging, the campus lacks a clear identity and cohesion that often prevents visitors from understanding the variety of uses on the site.

In addition, the campus includes spaces and amenities that have not been fully utilized to further Fort Mason Center's mission, notably the vacant Pier One and the campus's public realm, with a 437-space parking lot and an advantageous location on the bay.
Designed by the military with gates and retaining walls to separate the Fort from the city, ideas for improving its connection is a key element on which concepts will be judged.
A public presentation of the finalists' concepts is tentatively scheduled for October 15.