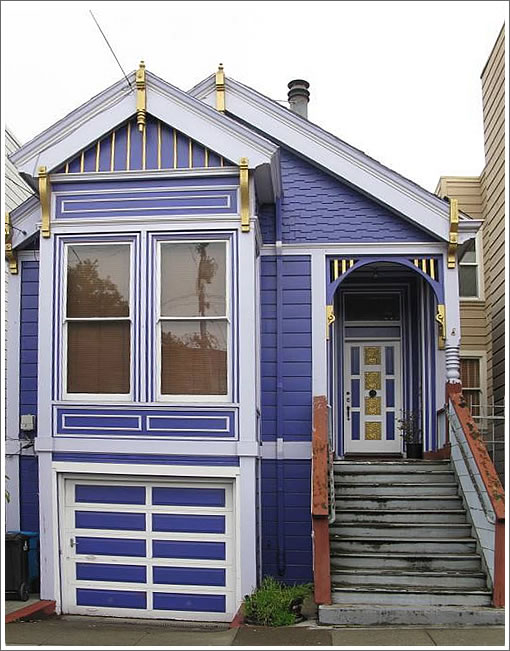 With a 2008 era mortgage for $910,000 long past due, last year Wells Fargo foreclosed upon the Noe Valley home of Kathryn Galves at 1164 Church Street. From "Occupy the Auctions" which unsuccessfully lobbied to keep Ms. Galves in the home:
Kathryn Galves purchased her lovely home at 1164 Church Street in 1972 and the home increased in value considerably over the years. She is a military widow who banked on the increased value of her property to invest in an out-of-state property with a Section 8 (affordable public housing) tenant. The investment did not go well and she lost more to book sales customers who didn't pay for their orders.
Kathryn lives on a fixed annuity income and her live-in sister earns a meager living as a caretaker. When her financial situation went sour, Kathryn filed a Chapter 13 bankruptcy, but Wells Fargo Bank successfully challenged the bankruptcy, then foreclosed on her home and it went to foreclosure auction. No one bid for the property at auction [at which the opening bid was $1,081,123], so it became "bank-owned", that is, owned by Wells Fargo. Wells Fargo has filed for the San Francisco Sheriff to evict Kathryn, her sister, and their dog from her home of 40 years.
Kathryn has found a long-term neighbor who is willing to purchase her home and let her, her sister, and their dog remain in the home. Despite many requests by Kathryn and the prospective buyer, Wells Fargo has refused to come to the bargaining table regarding selling the home.
Ms. Galves ended up accepting $7,500 to voluntarily leave the property prior to eviction by the Sheriff and not sue Wells Fargo, she has since vacated the property.
Yesterday, 1164 Church Street hit the MLS listed for $849,000 and touting "Great price, won't last!" with "offers due 5/1 by noon." And yes, priced at $494 per square foot, we'd be willing to bet the sale will be "over asking!" (and perhaps even more than was owed).
∙ Listing: 1164 Church Street (2/2) 1,722 sqft – $849,900 [Pacific Union]
∙ Stop the Eviction of Kathryn Galves, Her Sister, and Their Dog [occupytheauctions.org]
∙ It's Not This Mid-Century Modern Noe Valley Home That Was Flawed [SocketSite]