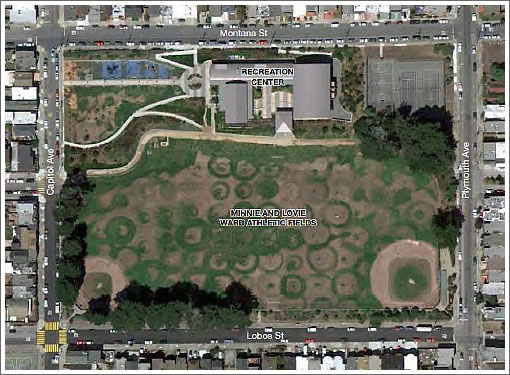 An aerial view of the Minnie and Lovie Ward Playfields at 650 Capitol Avenue paints the painful picture of the ankle twisting park as it current stands. As proposed, however, the former Ocean View Park and Recreation Center will be transformed.
The proposed project would renovate the approximately 6.1‐acre playfields and would include replacement of the existing grass turf with synthetic turf and installation of three 60‐foot‐tall light standards, three 70‐foottall light standards, and six 80‐foot‐tall light standards. The new light standards would be placed on the perimeter of the field area and would be controlled by an automated control system, which would turn the lights on at sunset and turn the lights off upon field closure at 10:00 p.m. daily.
The project would also include replacement of the existing bleachers at the baseball field; installation of new bleachers at the softball/little league field; two new volleyball courts; replacement of the existing metal chain link fence with black vinyl fence; replacement of baseball and softball backstops and baseball dugout areas; refurbishment of the pedestrian walkway; installation of new drinking fountains, benches, bike racks, trash and recycling cans; modification to the existing retaining wall in the northeast field area; installation of irrigation system for existing vegetation; removal of the existing cargo container; improve infrastructure to comply with ADA requirements; and removal and replacement of up to 21 on‐site trees due to poor suitability and condition.
Click the rendering of the proposed playfields renovation plan below to enlarge.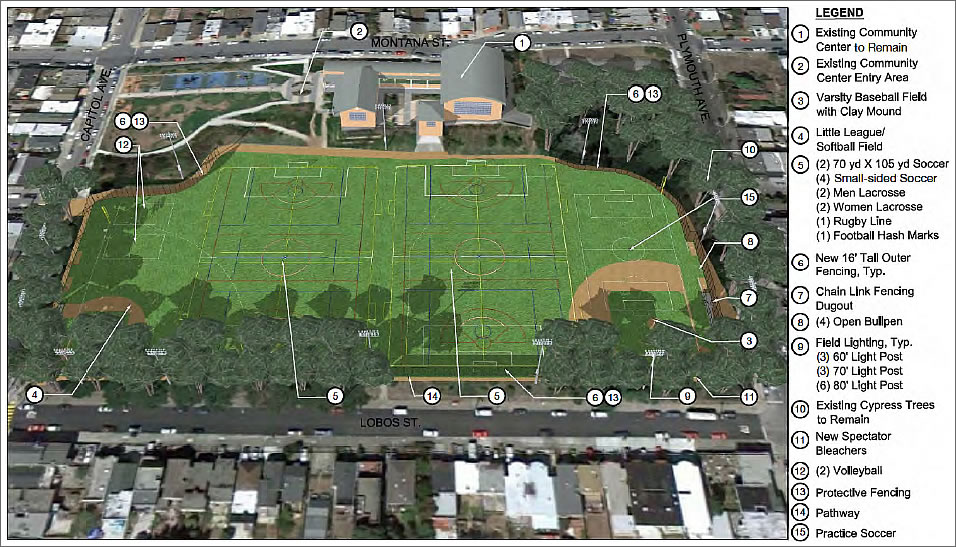 ∙ Minnie and Lovie Ward Playfields Renovation Plan [sfplanning.org]