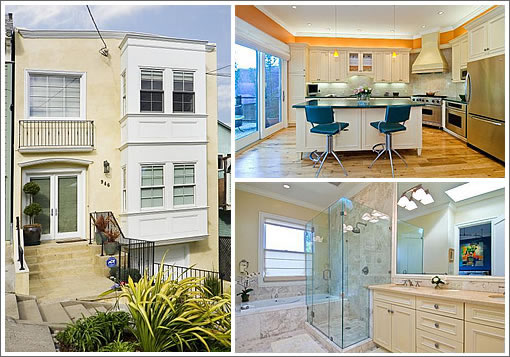 As we reported in November 2010:
From October 2004 to April 2007 the value of the single-family home at 946 Elizabeth increased from $2,100,000 to $2,675,000 for total appreciation of 21 percent and effective annual appreciation of 10 percent per year.
Yesterday the sale of 946 Elizabeth closed escrow with a reported contract price of $2,375,000, an 11 percent ($300,000) drop in value over the past three years.
The winner of our "think you know Noe" closest to the closing price challenge? A plugged-in "tipster" on the record at $2,365,000.
Back on the market and listed for $2,575,000 today, if you think you know Noe and the market for 946 Elizabeth now's the time to tell or forfeit your right to say "I told you so."
∙ Listing: 946 Elizabeth Street (3/3.5) 3,120 sqft – $2,575,000 [946elizabethstreet]
∙ Can You Correctly Pick This Noe Valley Apple To Be? [SocketSite]
∙ 946 Elizabeth Is Picked Up Down At 11 Percent Under Its 2007 Sale [SocketSite]