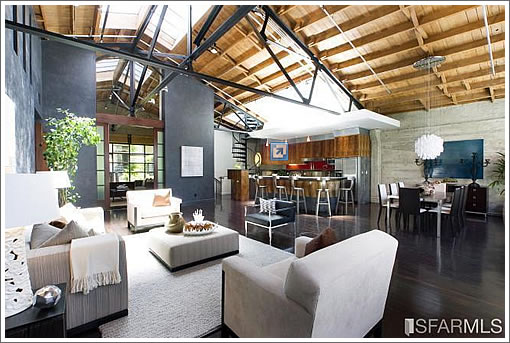 As we reported in June:
Converted in the year 2000 by Bay Area architects Abrams & Milliken, the largest of three units within the former Smitty Knitting Factory building at 75 Lansing Street hit the market in 2006 listed with 4,000 square feet for $2,995,000 and sold for $2,800,000.
With Venetian plaster, windows galore, and 20 foot ceilings atop; mahogany bookshelves in the library; and a kitchen designed by Pacassa Studios, the unit returned to the market in 2008 listed with 3,298 square feet for $3,850,000 and sold for $3,500,000.
75 Lansing #3 is back on the market today listed for $3,250,000 without any square footage. The agent's notes for other agents does, however, note 3,100 square feet. And tax records suggest it's 3,132.
The sale of 75 Lansing #3 has closed escrow with a reported contract price of $3,250,000, at asking but 7 percent under its 2008 value on an apples-to-apples basis.
∙ Smitten For The Smitty (And Its Incredible Shrinking Square Feet) [SocketSite]