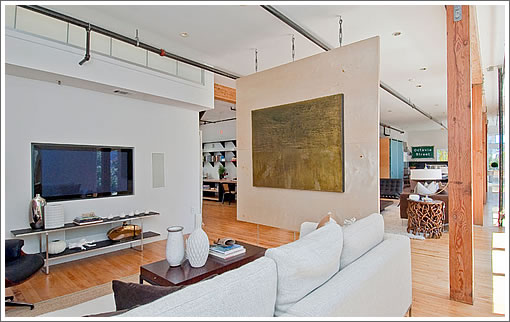 As we wrote about the Cape Horn Lofts building at 540 Delancey last year:
It was sixteen condos before units #402 and #403 were combined to form a 2,900 square foot unit with over 1,000 square feet of outdoor space. In contract (and so noted) at the time we profiled #401, 540 Delancey #402/3 sold for $3,100,000 in October 2008.
As we added this past June:
Listed for $3,295,000 at the end of 2009, and then for $2,995,000 last June, the Cape Horn penthouse unit known as #402/403 is back on the market and asking $2,899,000.
And as a plugged-in tipster notes today, the sale of 540 Delancey #402/403 closed escrow yesterday with a reported contract price of $3,000,000, an official $101,000 (3.5 percent) over asking but $100,000 (3.2 percent) below October 2008.
∙ 540 Delancey #402/403 Comes Back Around (At) The Cape Horn [SocketSite]
∙ Cape Horn Lofts (540 Delancey) In General, And #401 In Specific [SocketSite]
∙ Back Around The Cape (Horn Lofts Penthouse) [SocketSite]