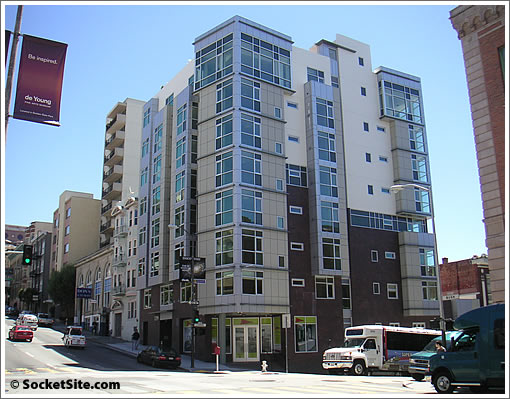 On the MLS for 171 days at $679,000, last month the listing for 1299 Bush Street #303 was withdrawn. This past Friday, however, the Axis two-bedroom was listed anew at an "original" list price of $659,000 and an official "one day" on the market according to industry statistics.
While the new listing for #303 now omits the square footage, according to the previous listing and condo map, the two-bedroom measures 995 square feet.
The 995 square foot unit one floor above (1299 Bush Street #403) sold for $675,000 last month having last been listed for $697,000 while the 995 square foot unit above that (1299 Bush Street #503) sold for $692,000 having been listed for $715,000.
As plugged-in people know, the 940 square foot #203 was listed for $795,000 when the building formerly known as "Citadine" first hit the market in 2009 and was listed as new for $675,000 when the building relaunched as Axis ten months ago. Number 203 is now listed for $639,000 with an official two years "105 days" on the market.