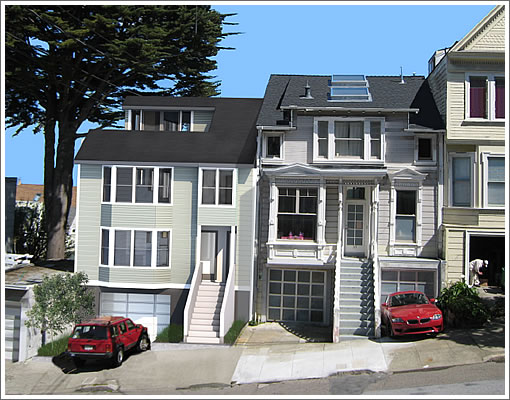 As plugged-in people know, the Planning Commission postponed their vote on the proposed project at 309-311 Eureka in May, raising concerns about "the compatibility of the proposed new structure with the existing neighborhood character" and "the impact of the proposed project to light and air for neighbors lower down the hill to the north."
The Commission made several recommendations at the hearing to help guide the Project Sponsor in making revisions to the proposal, including:
• Consider reducing the mass of the proposed new structure at the rear in order to lessen the impact to light and air for neighbors north of the subject property along 20th Street;
• Reconfigure the roof form and façade treatment in order to make the new structure more contextual;
• Examine methods of reducing the overall height of the proposed new structure.
The Commission also asked that the Project Sponsor continue to work with the [Discretionary Review] Requestors to try to come to a compromise.
In response to the DR Requestors' concerns, the proposed project has been significantly modified since its original proposal. One garage door has been removed, and two off‐street parking spaces are now accessible through a single garage door that measures 10' in width. The fourth floor has been set back 15' from the front building wall, and the overall height of the structure has been reduced. Setbacks at the north and south property lines have been added, as well as at the rear.
In addition, the proposed building has been reconfigured "using more traditional building elements such as an angled bay and sloped roof," the overall height has been lowered 14″, and the overall "bulk" of the building has been reduced 25% from original plans.
In the eyes of the neighboring objectors, however, it's not good enough.
The DR applicants regret to inform you that our efforts to reach a compromise with the Project Sponsor were unsuccessful and we were unable to reach agreement on a revised design. The DR applicants put forth 2 designs dated June 1, 2011 that addressed their concerns but the Project Sponsor rejected these designs because they were authored by the DR applicants.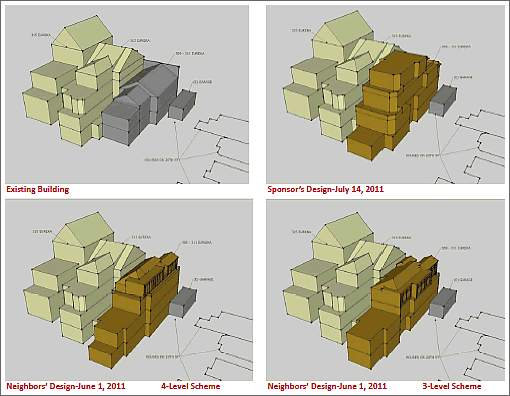 That being said, the Planning Department recommends the Planning Commission approve the Project Sponsor's revised design as proposed this afternoon.
Once again, as the site currently appears: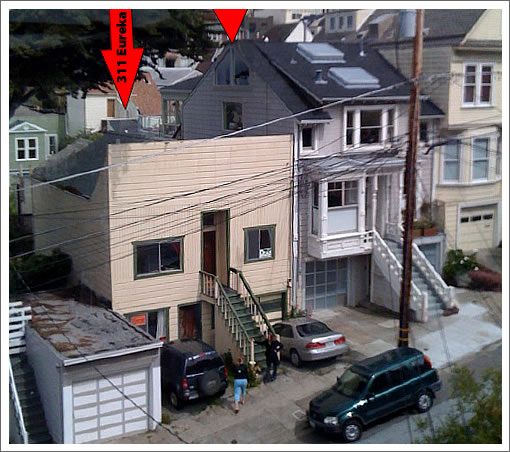 And as was previously proposed: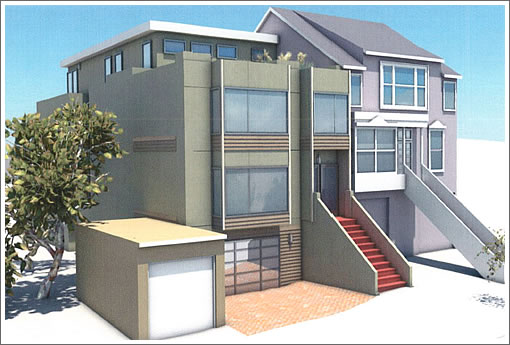 ∙ An Architect's Nightmare And Discretionary Review Irony [SocketSite]