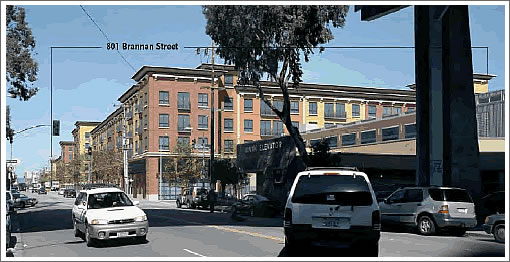 The plans for over 800 new housing units across 801 Brannan and One Henry Adams continue to make their way through planning with a Draft Environmental Impact Report has now been published. As we wrote last year:
The proposed development of 801 Brannan and One Henry Adams (click rendering to enlarge) has been in the works for over ten years, at one point hoping to be delivered in 2008 (and then 2010). The development would raze four buildings across two sites.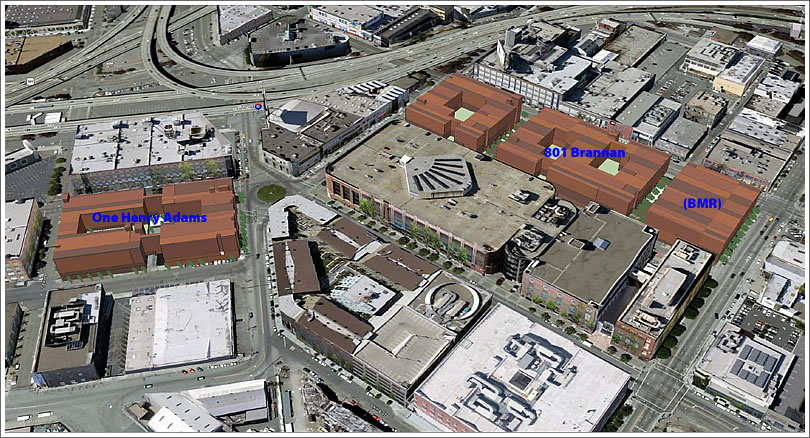 Rising on the sites would be five six-story/sixty-eight-foot buildings with up to 819 residential units over ground floor retail and 798 parking spaces. In terms of unit mix: 455 one-bedrooms, 315 two-bedrooms, 20 three-bedrooms, and 29 lofts as proposed.
The latest plans call for 824 units, with 425 one-bedrooms, 325 two-bedrooms, 50 three-bedrooms, and 24 lofts. And in terms of parking, 166 799 spaces in total.
As proposed, the two market-rate buildings for the 801 Brannan site would cost approximately $130 million to construct and would be constructed between 2012 and 2014. The two buildings proposed for the One Henry Adams site would cost approximately $65 million and would be constructed in 18 months, beginning in the fall of 2012. The BMR parcel would be developed "at such time as determined by [the Mayor's Office of Housing], dependent upon its resources and priorities."
UPDATE: Sorry folks, did we say 166 parking spaces? Make that 799, with 571 spaces at 801 Brannan alone. The 166 represents the number of spaces which will be dedicated to fulfilling current parking easements and agreements for tenants in neighboring buildings.
Our apologies for the confusion (and perhaps a heart attack or two).
∙ 801 Brannan And One Henry Adams: 819 Units As Proposed [SocketSite]
∙ 801 Brannan And One Henry Adams: Draft Environmental Impact Report [sfplanning.org]