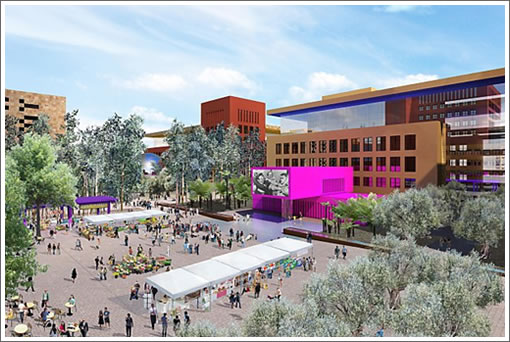 From the Wall Street Journal today with respect to the proposed designs for Salesforce's new global headquarters campus in Mission Bay:
Renderings of the Salesforce.com campus, released earlier this month, feature a flashy design. A public square is anchored by a hot-pink Jumbotron video screen.
"That was my idea," Mr. Benioff, the Salesforce.com CEO, said of the screen. "Putting something like that there can add a lot of energy." The Jumbotron could be used for things such as employee presentations and public entertainment, he said.
Salesforce.com is hoping for design-review approval from the city by September. "If we can't get the approvals we could also end up somewhere else," Mr. Benioff said.
The redevelopment agency's Ms. Kahn said that while she didn't anticipate problems with the design review, the pink Jumbotron might face additional environmental scrutiny. Overall, Ms. Kahn said, "we're generally, based on what we've seen, pleased."
And in the words of JK Dineen:
Let's be real. It's highly unlikely that the redevelopment agency board, which has rubber stamped pretty much everything that has been proposed for the 303-acre Mission Bay campus, will give Salesforce a hard time. We are talking about 10,000 Salesforce jobs. We are talking about at least $700 million of 100 percent union construction over the next five years. In Marc Benioff we are also talking about a philanthropic superstar who, along with his wife, donated $100 million for the UCSF Hospital that is driving much of the investment into Mission Bay.
∙ Designs For Salesforce's Global Headquarters Complex in Mission Bay [SocketSite]
∙ A Bit Of Color On (And For) Salesforce's Campus In Mission Bay [SocketSite]
∙ Mission Bay Prepares for Makeover [WSJ]
∙ Salesforce CEO: approve our HQ plan, or else… [Business Times]
∙ The Building Of UCSF's New Mission Bay Medical Center Is Underway [SocketSite]