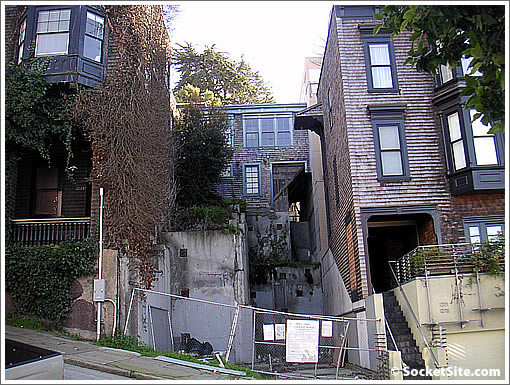 While the Planning Commission has approved all the necessary permits and variances necessary to raze and rebuild at 1269 Lombard, and the proposed project has survived three Discretionary Reviews and a number of appeals over the past year, the project is back in front of San Francisco's Board of Supervisors tomorrow as an opponent is now challenging the Planning Department's determination that the current property is not a historic resource and as such should be subject to an extensive Environmental Review.
As we wrote this past June:
First approved for development and excavated in 1998, the twelve year saga of 1269 Lombard involves a failed development attempt, a two year foreclosure battle (the property went back to the lenders in 2004), a four year approval process with Planning (that's not yet over), and steadfast opposition from a neighboring tenant (yes, tenant).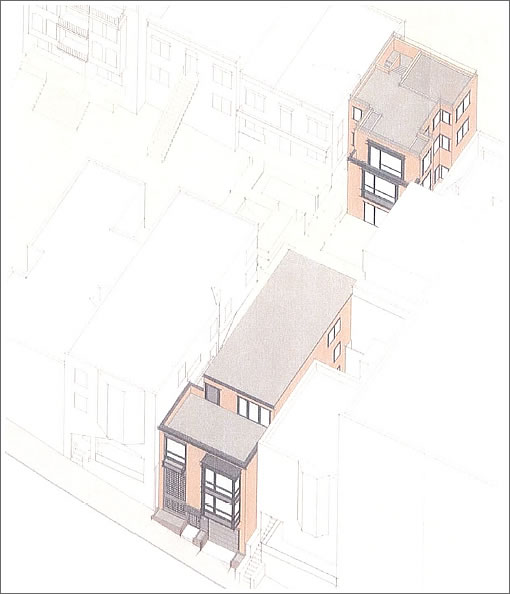 As proposed, the project will "demolish the existing single-family, two-story building located towards the rear of the lot and construct two new single-family buildings, located at the front and rear of the lot separated by an open yard."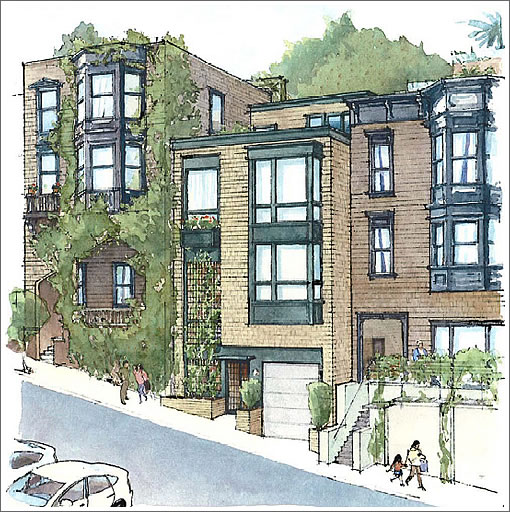 With a design that's backed by the Russian Hill Neighbors Association and all adjacent property owners, it's on to our Planning Commission this Thursday to rule on the neighboring tenant's requested Discretionary Review opposing the project as well as front setback and rear yard variances for the design as proposed.
As noted above, the Planning Commission is now on board, but will the Board be as well or could it really be an unlucky 13 years in the making for the project as proposed?
∙ Will 1269 Lombard Finally Break Free From Its Suspended State? [SocketSite]
∙ San Francisco Board of Supervisors Agenda: February, 1 2011 [sfbos.org]
∙ 1269 Lombard Street: Appeal of Exemption from Environmental Review [sfbos.org]