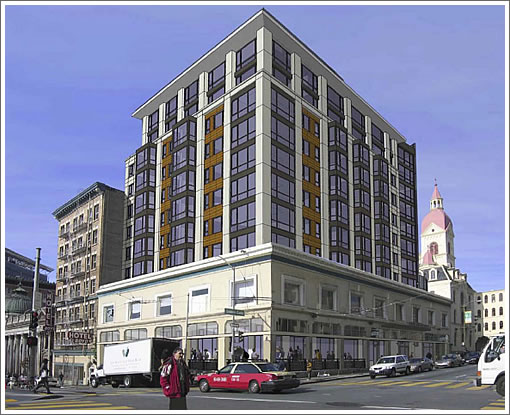 As plugged-in people know, the St. Anthony Foundation and Mercy Housing propose to raze the existing 40-foot-tall, two-story building at 121 Golden Gate Avenue and build a 99-foot-high, ten-story building of approximately 109,375 gross square feet comprising a kitchen/dining hall, philanthropic/social services, and 90 affordable senior housing units.
What some might not know, the façade is considered "historic." And as such, the just released Environmental Impact Report (EIR) for the project includes a "Partial Preservation Alternative" which would retain the street level façades on Golden Gate Avenue and Jones.
The portion of the proposed building that extends above the height of the existing historic roofline would be set back one structural bay, approximately 14 feet, from the Golden Gate Avenue and Jones Street property lines, in order to maintain a sense of the existing historic building's height and massing. With the setbacks, this alternative would be approximately 85,687 square feet, or 22 percent smaller than the 109,375 square feet of the proposed project. This alternative would have 68 affordable housing units, 24 percent fewer than the proposed project's 90 affordable units. Other aspects of the proposed project would be unchanged or similar (land uses, height).
All character-defining materials of the historic façades would be cleaned and repaired in conformance with the Secretary of the Interiors Standards. The existing storefront systems would be removed below the transom to accommodate the arcade proposed as part of the project. The bulkhead below the storefront would be removed only in those locations that require a path of travel to the street. Three to four storefront openings that have been infilled/modified would be reopened to match their historic configuration and provided with a new transom to match the original.
∙ Designs For Building Senior Housing At 121 Golden Gate Avenue [SocketSite]
∙ 121 Golden Gate Avenue Draft Environmental Impact Report (EIR) [sf-planning.org]