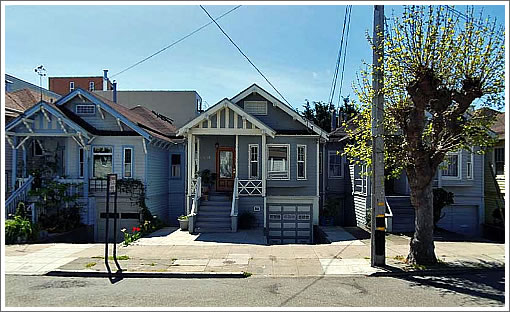 As we wrote this past December:
Purchased for $562,000 in April 2004 but then "completely renovated [with] extensive high quality and designer touches throughout this charming house," 6521 California returned to the market just three months later asking $888,000. It closed escrow in August 2004 with an MLS reported sale price of $938,888.
According to public records the buyers of the house in 2004 financed the purchase with two variable rate loans totaling $938,850. And according to its latest listing, the "Sea Cliff" house is now bank owned and asking $799,900 (but subject to tenant rights).
Apparently $38 isn't enough skin to keep a buyer in the game.
Withdrawn from the market in January without a sale, 6521 California is back on the MLS with an official one day on the market and asking $689,900 (26 percent under its 2004 comp setting sale price).
∙ Listing: 6521 California (2/2 + 1/1) 1,474 sqft – $689,900 [MLS] [Map]
∙ San Francisco Real Estate Districts: Maps And Neighborhoods [SocketSite]
∙ Not So Lucky Number Eights (Maybe The Nines Will Be Better) [SocketSite]