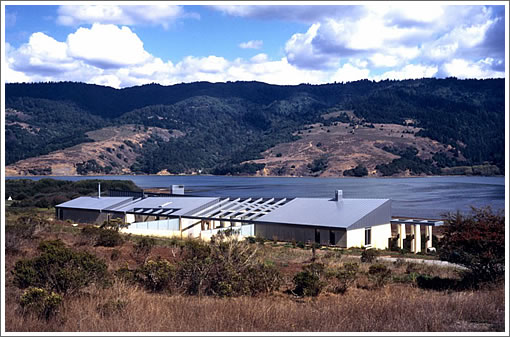 From the Leddy Maytum Stacy Architects website with respect to 40 Mesa Road, design by William Leddy and part of SFMOMA's permanent collection (the design not the house):
This private residence for a collector of Asian Art lies at the edge of the Pacific Rim. Located on the Point Reyes Peninsula 40 miles north of San Francisco, the site overlooks Bolinas Lagoon and the costal mountains beyond.

The house was conceived as a sculptural presence harmonizing with the natural landscape. Its sand-colored plaster walls blend with the golden California grasses; its gray metal roof merges with the often-gray skies.

As one moves through the house, the structure selectively frames views of the surrounding natural world.
Last sold for $2,995,000 in April of 2005, the 3,021 square foot home on five acres returned to the market in March of 2009 asking $3,700,000.
40 Mesa's asking price was reduced to $3,550,000 last May, to $2,975,000 last July, to $2,700,000 last October, and to $2,650,000 as of four days ago.