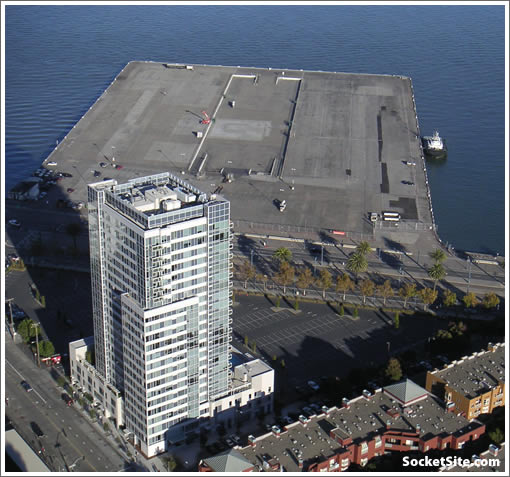 As we wrote in April:
Two months after its initial sale for $1,250,000 in October of 2006 Watermark (501 Beale) Penthouse #2B was flipped for $1,375,000. (Ah, the good old days.) It's now a little over two years later and the top floor condo is back on the market and asking $1,094,500.
The listing notes both short sale and bank owned (we believe it's the former) and the condo failed to sell earlier this year when seeking $1,195,000. Keep in mind that the identical "penthouse" unit a floor below (#PH1B) sold for $1,300,000 in October of 2006 and was likely a supporting comp for the flip of #PH2B. And so on. And so forth.
501 Beale #PH2B ended up selling for $950,000 this past October. That same month 501 Beale #PH1B was returned to the bank, it's now back on the market and asking $940,500.
Plugged-in people should have seen it coming (and been prepared). Those too busy whining about our "unfair apples" probably would have missed it (or perhaps were simply trying to sell you something else).
We also expect the bank-owned Watermark Penthouse #1E to return to the market soon, while bank-owned units #1D and #6C remain active and available as well.
∙ Listing: 501 Beale #PH1B (2/2) – $940,500 [Redfin]
∙ From Flippy To Floppy For Watermark (501 Beale) Penthouse #2B [SocketSite]
∙ A Pair Of Bank-Owned Penthouses Atop The Watermark (501 Beale) [SocketSite]
∙ Another Bank Owned Watermark Comp To Be: 501 Beale #6C [SocketSite]