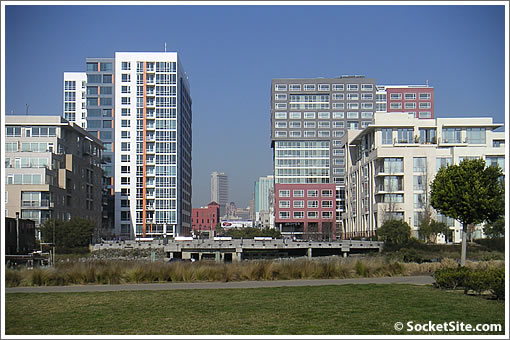 From a plugged-in reader living in Mission Bay two years ago:
I think it is comparatively safe as compared to lot of other neighborhoods in the city and I was seriously considering buying a condo in the area (and still might). I think it's very easy to hit all the hotspots in the city from this neighborhood either by Muni (Bus & Transit) or cab. Overall I would say it's a nice neighborhood and I see it only improving from here on.
From the Chronicle with respect to Mission Bay today:
Mission Bay feels as if it escaped the economic downturn – stores are opening, buildings are going up, and young professionals are zipping out of $700,000 condos to get to work. Most live in a six-block area north of Mission Bay Creek. These pioneers say it's now starting to feel like a place worth staying in on the weekends.
Of course those $700,000 condos might have been $800,000 condos last year as no San Francisco neighborhood has "escaped the economic downturn," but the point about Mission Bay continuing to grow and evolve is sound.
∙ SocketSite Reader's Report: Living In North Mission Bay (For Real) [SocketSite]
∙ Mission Bay becoming a real neighborhood [SFGate]
∙ An Overview Of Mission Bay [SocketSite]