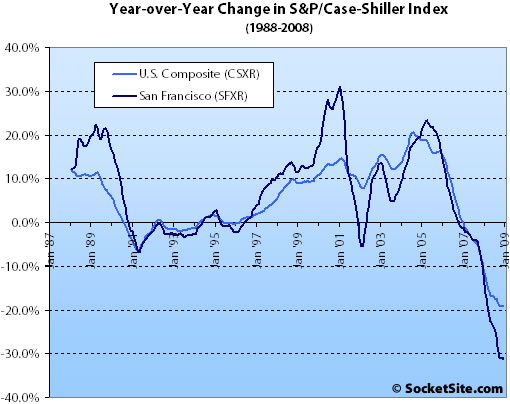 According to the October 2008 S&P/Case-Shiller Home Price Index (pdf), single-family home prices in the San Francisco MSA fell 4.2% from September '08 to October '08 and are down 31.0% year-over-year. For the broader 10-City composite (CSXR), year-over-year price growth is down 19.1% (having fallen 2.1% from September).
Three of the metro areas have given back, on average, more than 30% of the value of homes since October of last year. Phoenix remains the weakest market, reporting an annual decline of 32.7%, followed by Las Vegas, down 31.7%, and San Francisco down 31.0%. Miami, Los Angeles, and San Diego were close behind with annual declines of 29.0%, 27.9% and 26.7%, respectively.
Condo values in the San Francisco MSA also continued their decline falling 3.1% from September '08 to October '08, down 17.0% on a year-over-year basis and down 19.8% from an October 2005 high.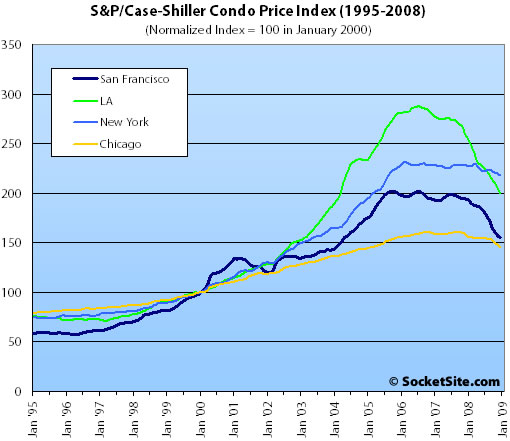 And San Francisco MSA single-family home prices once again fell across all three price tiers.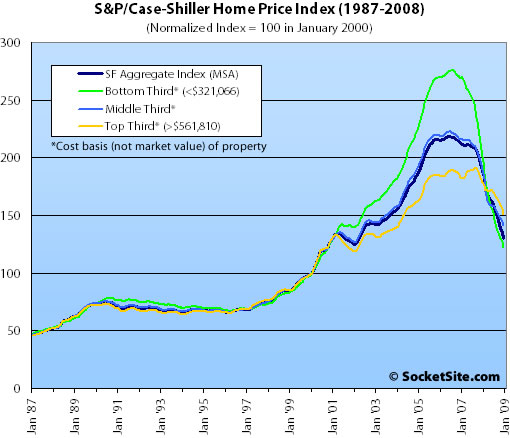 The bottom third (under $361,865 at the time of acquisition) fell 3.5% from September to October (down 42.1% YOY); the middle third fell 2.7% from September to October (down 27.6% YOY); and the top third (over $616,549 at the time of acquisition) fell 2.7% from September to October (down 15.7% YOY).
According to the Index, single-family home values for the bottom third of the market in the San Francisco MSA have retreated to January 2001 levels, the middle third has returned to April 2003 levels, and the top third has fallen to October 2004 levels.
The standard SocketSite S&P/Case-Shiller footnote: The S&P/Case-Shiller home price indices include San Francisco, San Mateo, Marin, Contra Costa, and Alameda in the "San Francisco" index (i.e., the greater MSA) and are imperfect in factoring out changes in property values due to improvements versus actual market appreciation (although they try their best).
∙ Home Price Declines Worsen As We Enter the Fourth Quarter of 2008 [S&P]
∙ September S&P/Case-Shiller: San Francisco MSA Decline Continues [SocketSite]