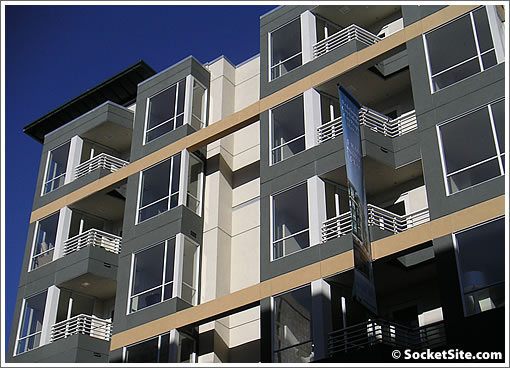 As we wrote 14 months ago:
What most people already know about Frank Norris Place (81 Frank Norris): it's a new development of 32 one bedroom "luxury condos" on Polk; it's been selling for about six months; and it was originally designated "City Living For City People 55 and Over" (i.e., at least one occupant per unit had to be 55+).
What plugged-in people know: it's roughly 50% "sold"; prices have been reduced by as much as $50,000 (11%) since their initial "pre-release pricing"; the website is advertising 2 years of paid HOA dues (which range from $330 to $430 per month); and perhaps most interestingly, we've been told that the building's CC&R's are in the process of being amended to allow residents under 55 to occupy up to 20% of the development.
And while we don't have an answer as to how that amendment was even possible (as far as we know the developer was able to double the density of the development based on the original age restrictions), we do know that it might make it worth taking another look if you liked the design, location, and pricing of the condos (but simply weren't old enough to occupy at the time).
As the San Francisco Business Times writes today: "A developer in San Francisco is under fire from city officials for an unusual offense: selling condominiums to young people."
The developer has filed for bankruptcy, the Planning Department has issued a notice of violation for not keeping the building 100% senior/handicap occupied, and at least one buyer has sued (both the developer and Vanguard).
∙ The SocketSite Scoop On Frank Norris Place (81 Frank Norris) [SocketSite]
∙ San Francisco condo developer built for old, sold to young [Business Times]