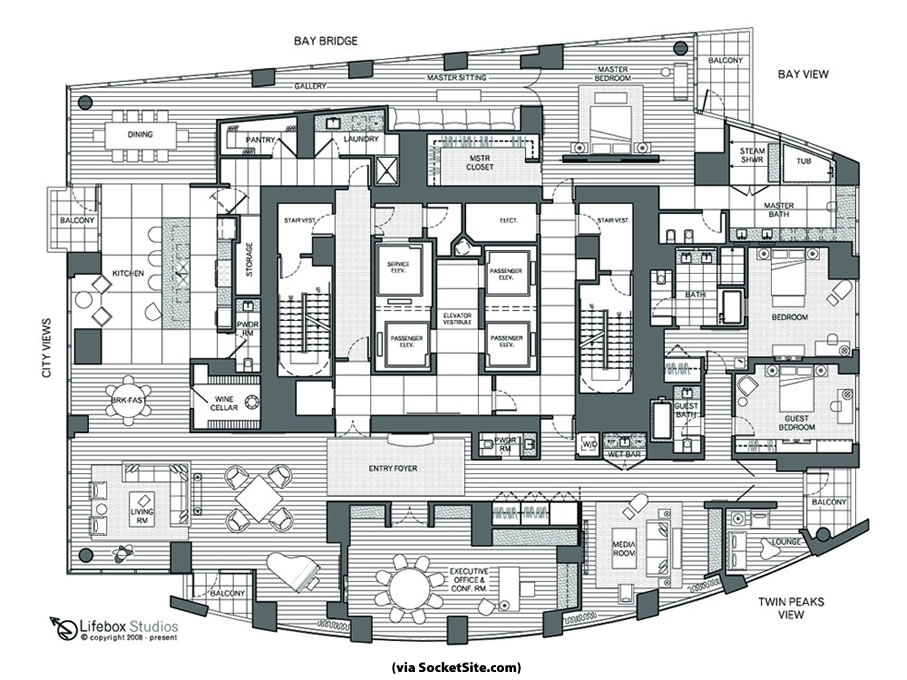 A team of plugged-in professionals have responded to our unofficial One Rincon Hill Penthouse Floor Plan Challenge with an official ORH "OMG!" entry. And this time, it's not only the floor plan above (click to enlarge), but design notes and 3D rendering that follow.
In the words of our plugged-in architect, Thomas Pippin of Lifebox Studios:
I approached the 5,900 S.F. penthouse by identifying the ideal buyer: "The Executive", and then conceptualizing the layout to accommodate his/her particular needs. The office & teleconferencing suite essentially becomes the center-piece. The suite enables the executive to seamlessly conduct business internationally from his/her home, and also embraces the work demands of a part-time assistant managing the executive's philanthropic-based activities.
At first glace, the initial location of living spaces made sense. Due to the eastern skewed perimeter, the largest social gathering potential is in the northwest corner, and is designated as the Living Room. The southeast corner with views to the bay and minimal telescopic invasion lends best use as the Master Bedroom, and also the adjacent two additional bedrooms with similar views and privacy. The remaining spaces fall into place by functional arrangement…
Composing uninterrupted visual pathways between opposite sides of the building sustains a sense of place and orientation for the occupant. A gallery provides ambient views that lead to a prominent master bedroom entry while generating a north/south visual path on the east side. The north/south visual path on the west side is established through a pair of glass doors to the intimate Lounge and could be an optional 3rd bedroom with a private balcony.
The media room and two bedrooms can be closed off from the rest of the house via a large sliding partition for black-tie events allowing the private spaces to remain functional while entertaining. The media room posed problematic western exposures, but after investigating several options, I found other solutions resulted in a hotbed of winding hallways. So I addressed the issue with motorized black-out shades and a heavy drape.
Special consideration has been given to the plumbing locations and incorporated based on the four individual penthouse plans. The master bath and shower take advantage of the bay views. It appears a drain exists at the interior shaded column. I believe the shower could be raised one step to accommodate a post-p-trap tub drain slope and connection.
Since the main entry is located on the North side, the corridor connecting the master bedroom could be privatized but accessible and rated for egress as required. Laundry and pantry room have been located near the service entry for convenient delivery of goods and housekeeping services.
Thank you SocketSite, I've enjoyed the creative exercise and look forward to reading the comments that will follow.
No, thank you. And as if that wasn't enough, the floor plan as rendered by Kim Chalmers of Steelblue LLC in collaboration with Neorama (once again, click to enlarge):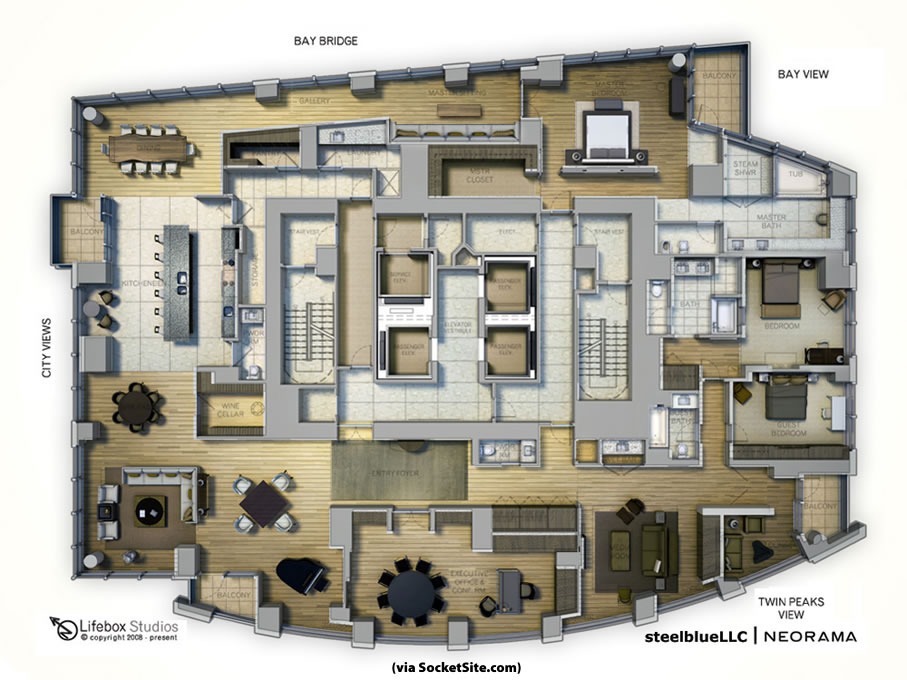 And no, this isn't the first time this team has collaborated. Thomas was intimately involved in the design of the Penthouse atop the St. Regis while at Orlando Diaz-Azcuy Design Associates. And it was through that project that our players first met.
Even if you're not in the market for an eight-figure penthouse, some great ideas to file away. And once again, cheers to all who participated (including Ryan and flaneur), we have rather high expectations of our readers and yet again you didn't disappoint.
∙ The One Rincon Hill Design(s) For The 60th Floor Of Tower One [SocketSite]
∙ Lifebox Studios [lifeboxstudios.com]
∙ Steel Blue LLC [steelbluellc.com]
∙ NEORAMA [neorama.com]
∙ Inside The St. Regis Penthouse: The Rendering Scoop And Details [SocketSite]
∙ The Unofficial One Rincon Hill Floor Plan Challenge: Ryan Responds [SocketSite
∙ The Unofficial One Rincon Hill Floor Plan Challenge: It's Flaneur Time [SocketSite]]