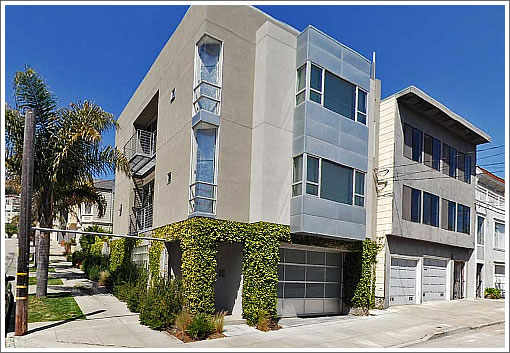 From a plugged-in reader with a good eye (and memory):
Vanguard is listing the home of Phil Matthews, AIA. It says "call for price." I am not sure the exact address but it is at the NW corner of 21st and Eureka.
Nothing on Vanguard's website that I could find yet, but it's a great house. It was on the AIA house tour 3 or 4 years ago.
In terms of the address, that would be 398 Eureka. In terms of the tour, that would have been 2003. And in terms of the design, we found a few more shots (and background) online.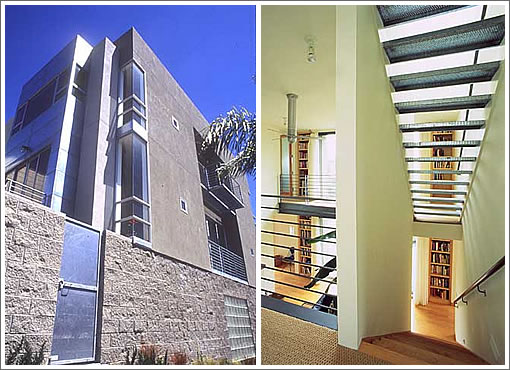 From the architect:
This is my own house, where I currently work and live with my partner, Ed Graziani, who contributed many ideas to the design of the house. We did an initial deconstructive design back in 1992, which was subject to criticisms by some neighbors. We then went on to build 700 Noe Street, in 1995-96. We then re-designed and built this project. A 180 degree turn from the mindless complexities of deconstruction to the simple, bold strength of Louis Sullivan's Charnley House in Chicago, the so-called 'first modern house,' was part of the inspiration for the 1998 re-design.
The price? Let us know when you make the call.
UPDATE (9/26): Officially priced ($2,450,000) and added to the MLS as inventory.
∙ AIA Profile: Philip Mathews Architect [aiasf.org]
∙ Philip Mathews Portfolio: 398 Eureka [mathewsarchitect.com]
∙ Listing: 398 Eureka (3/4) – $2,450,000 [MLS]