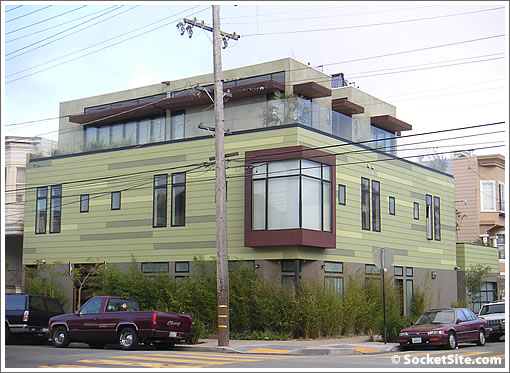 It appears that a notice a default (NOD) has been filed for 3027-3029 25th Street, otherwise know as the 2007 Sunset Idea House (or "La Casa Verde"). The filing notes a loan balance of $2,974,006.35 and that the "Beneficiary hereby elects to conduct a unified foreclosure sale and to include in the foreclosure personal property & fixtures."
From a plugged-in tipster:
If most of the stuff was donated or at cost, how could [the developer] have ended up with a $3mil mortgage loan? Unless [the developer] put the house up as collateral on other projects….[And the] reference to fixtures and personal property is unusual. I'm guessing the bank doesn't want all of the vendors who donated products to think they can take them back.
That's probably a good guess. And say what you will, we're digging the green(ery).
∙ Sunset's 2007 San Francisco Idea House: 3027 25th Street [SocketSite]
∙ An Early Peek Inside "La Casa Verde" (a.k.a. The Future Idea House) [SocketSite]
∙ The SocketSite Scoop: Half Of The Sunset Idea House Hits The Market [SocketSite]
∙ Sunset's 2007 San Francisco Idea House: A Few Facts [SocketSite]