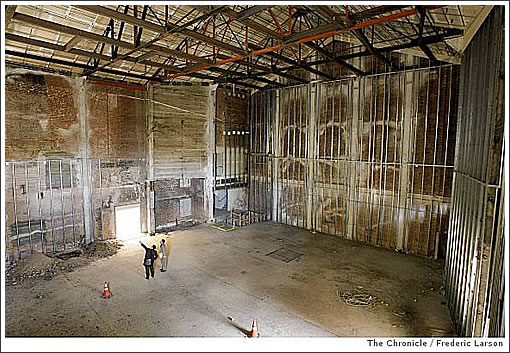 Once again, it was a little over a year ago that a plugged-in reader first dished up the scoop (and perhaps stirred the pot) on the history of the boarded up Pagoda theater in North Beach and the new owners' plans to tear it down and build something new. Our reader's prescient summary at the time: "Uh. Oh. Stalemate."
Two months ago the developer's latest proposal appeared to be making some headway, but a plugged-in reader quickly set the record straight: "…I live one block away from this eyesore, and already the word on the street is that [Aaron] Peskin, Nancy Shanahan, and the Telegraph Hill Dwellers are all geared up to fight this latest proposal, too. The only "hope" is that they will have finally annoyed enough people in this neighborhood so that they turn out against them (the Dwellers)."
And today, it's another look inside (this time both literally and figuratively) the boarded up and beleaguered theater.
The Pagoda, vacant for 14 years, has been caught up in endless squabbles over how it can be developed. Today it is a smelly, abandoned shell, home to hundreds of pigeons. Developer Joel Campos has a plan to build condominiums and a restaurant there, but some neighborhood activists believe Peskin and Shanahan are stalling the efforts.
"Landmark" indeed.
∙ Theater a monument to inaction in North Beach [SFGate]
∙ Landmark Sarcasm Update: Hope For North Beach Pagoda Theater? [SocketSite]
∙ A Reader Reports: Landmark Sarcasm (We Can Only Hope) [SocketSite]