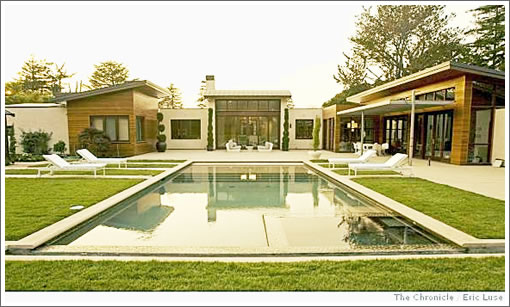 From a reader yesterday (in response to an interesting comment from a car-less couple happily inhabiting a 470 square foot studio in the city):
i'm sick of people flaunting their eco credentials when they have two Prius's (or would that be Prii?) sitting in the driveway of their 2000+ sq ft house while they eat steak and foie gras at the latest hot restaurant living in a small studio space is not for everyone, but doing so, without a car, is the definition of sustainability.
i happen to drive a car to work that is not a hybrid, and i have too many sq ft for my family size, but I have not nor will i ever present myself as living an ecologically friendly lifestyle.
And ironically, from the Chronicle today:
From the looks of their new, contemporary-on-the-outside, luxe-on-the-inside, 6,000-square-foot Hillsborough home and from the smiles on their faces, the Rubensteins' effort to make the greenest selection at every step of the building process seems to have yielded a harmonious synergy of livability, luxury and environmental responsibility.
∙ A glam, glitzy and green Hillsborough mansion [SFGate]
∙ Mini Meltdown At The Metropolitan? (333 1st Street #N1906) [SocketSite]