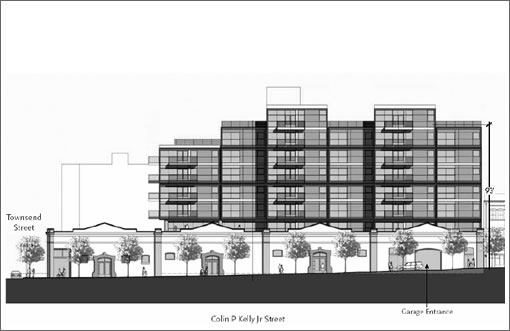 From a plugged-in tipster nine months ago:
The existing ground floor windows [of 72 Townsend] got a good wash yesterday and are now adorned with the news that [74] Luxury Homes are coming soon starting from the $600s. Development is by Thompson Development, hoping that that plans approved last year is what actually gets built.
And from a plugged-in reader today:
This development could be off again… all the marketing window material has been removed, so we are either getting some new temp retail (no details [visible]) or the building could be back on the market.
Anybody?
UPDATE: And the answer: "the development is on hold. the space will be leased out in the meantime. the condo construction isn't expected for another 3-5 years now." So close, but yet so far.
∙ A Plugged-In Tipster Reports: 72 Townsend Is Now "Coming Soon" [SocketSite]
∙ JustQuotes: 72 Townsend To Become 74 New Condos In San Francisco [SocketSite]