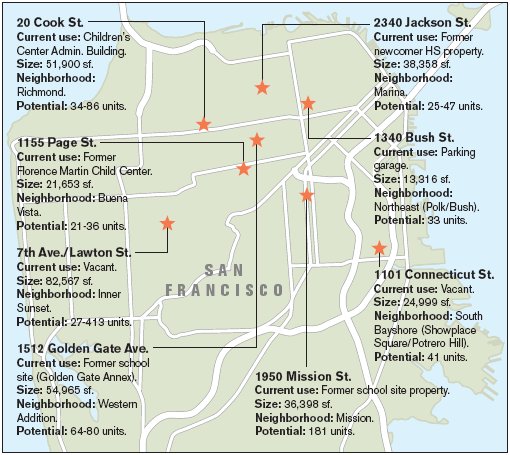 According to J.K. Dineen at the San Francisco Business Times, the San Francisco Unified School District (SFUSD) has hired CB Richard Ellis Consulting to evaluate the potential sale of "a group of sites totalling 11.2 acres that, with special zoning changes, could accommodate 917 housing units."
The properties extend from the Richmond to the Marina. A 36,000-square-foot site just steps from the 16th Street BART station at 1950 Mission St., for example, is zoned for four-story residential and could house 181 units. A defunct child care center at 1155 Page St., a block from Buena Vista Park, could add 36 units. The largest site — 83,000 square feet of open space at Seventh Avenue and Lawton Street — could be developed into 413 homes, although any construction there would be battled by dog walkers and residents who have long used the sloping grass quad as an ad hoc park, as well as seasonal marketplace for pumpkins and Christmas trees.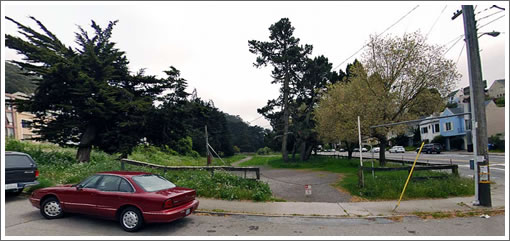 Other properties up for evaluation: 2340 Jackson (former newcomer High School property), 1340 Bush (parking garage), 1512 Golden Gate Avenue (Golden Gate Annex), 20 Cook (Children's Center Administration Building), and 1101 Connecticut (vacant).
The slow and steady decline in enrollment has driven agonizing annual debates over politically sensitive school closings. In May of 2007 a citizens advisory committee looking into enrollment drop and the district's properties recommended that the school board designate 20 percent of its property as surplus and lease or sell them to third parties.
∙ S.F. schools to market 8 properties [Business Times]