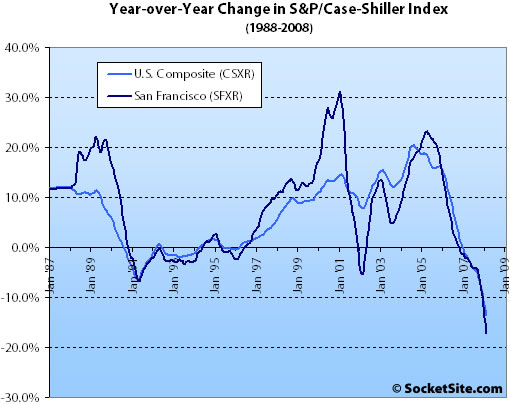 According to the March 2008 S&P/Case-Shiller Home Price Index (pdf) , single-family home prices in the San Francisco MSA fell 3.5% from February '08 to March '08 and are down 20.2% year-over-year. For the broader 10-City composite (CSXR), year-over-year price growth is down 15.3% (having fallen 2.2% from February).
The decline in the S&P/Case-Shiller U.S. National Home Price Index – which covers all nine U.S. census divisions – reached well into double digits, recording a 14.1% decline in the 1st quarter of 2008 versus the 1st quarter of 2007, the largest in the series 20-year history. As a comparison, during the 1990-91 housing recession the annual rate bottomed at -2.8%. The 10-City and 20-City Composites also set new records, with annual declines of -15.3% and -14.4%, respectively.
Prices fell across the bottom two price tiers for the San Francisco MSA, while the top tier remained unchanged on a month-over-month basis but declined 2.0% year-over-year.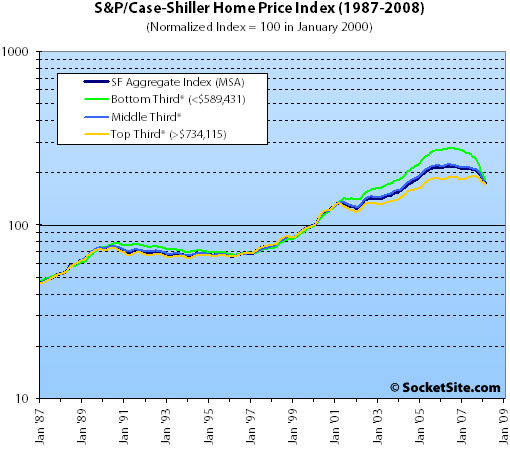 The bottom third (under $489,431 at the time of acquisition) fell 5.3% from February to March (down 34.7% YOY); the middle third fell 4.5% from February to March (down 23.9% YOY); and the top third (over $734,115 at the time of acquisition) fell 0.04% from February to March (down 8.0% YOY).
And according to the Index, home values for the bottom third of the market in the San Francisco MSA have returned to June 2003 levels, the middle third to March 2004 levels, and the top third is holding at March 2005 levels.
The standard SocketSite S&P/Case-Shiller footnote: The HPI only tracks single-family homes (not condominiums which represent half the transactions in San Francisco), is imperfect in factoring out changes in property values due to improvements versus actual market appreciation (although they try their best), and includes San Francisco, San Mateo, Marin, Contra Costa, and Alameda in the "San Francisco" index (i.e., the greater MSA).
∙ National Trend of Home Price Declines Continued into the First Quarter of 2008 [S&P]
∙ February S&P/Case-Shiller: San Francisco MSA Decline Accelerates [SocketSite]