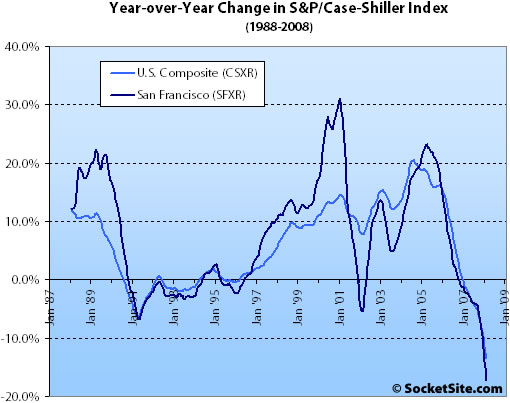 According to the February 2008 S&P/Case-Shiller Home Price Index (pdf), single-family home prices in the San Francisco MSA fell 5.0% from January '08 to February '08 and are down 17.2% year-over-year. For the broader 10-City composite (CSXR), year-over-year price growth is down 13.6% (having fallen 2.8% from January).
For the month of February, markets in the West were the biggest decliners. San Francisco [-5.0%], Las Vegas [-4.8%], and Los Angeles [-4.3%] were the worst performers. Each had a negative return in excess of 4%. Charlotte remains the only market that has a positive return over the past 12 months, but it too has seen negative returns in each of the last six months and is in the midst of growth deceleration.
Prices fell across all three price tiers for the San Francisco MSA with the rate of decline accelerating across the board.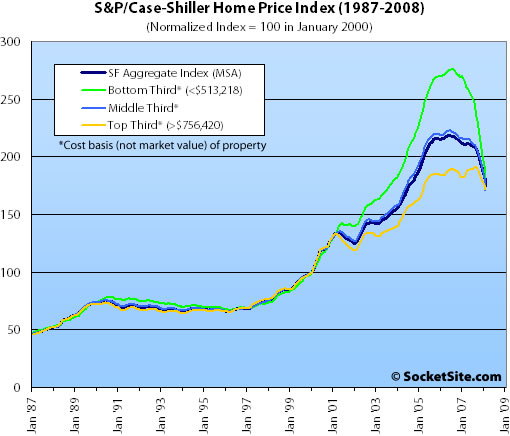 The bottom third (under $513,218 at the time of acquisition) fell 5.9% from January to February (down 32.0% YOY); the middle third fell 5.9% from January to February (down 20.6% YOY); and the top third (over $756,420 at the time of acquisition) fell 2.5% from January to February (down 6.0% YOY).
And according to the Index, home values for the bottom third of the market in the San Francisco MSA have returned to December 2003 levels, the middle third to May 2004 levels, and the top third to March 2005 levels.
The standard SocketSite S&P/Case-Shiller footnote: The HPI only tracks single-family homes (not condominiums which represent half the transactions in San Francisco), is imperfect in factoring out changes in property values due to improvements versus actual market appreciation (although they try their best), and includes San Francisco, San Mateo, Marin, Contra Costa, and Alameda in the "San Francisco" index (i.e., the greater MSA).
UPDATE: Back by popular demand, the San Francisco price tiers plotted logarithmically: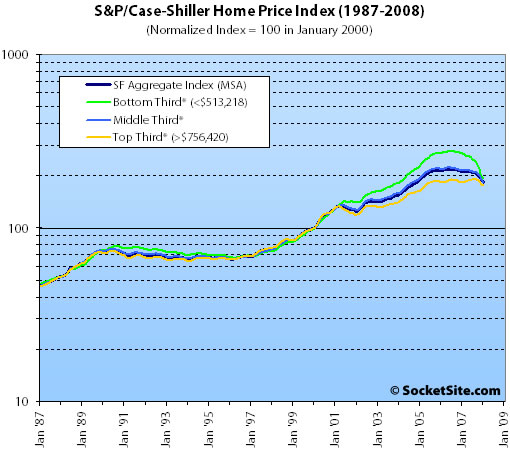 ∙ Steep Declines in Home Prices Continued in February 2008 [Standard & Poor's]
∙ January S&P/Case-Shiller: San Francisco MSA Continues Decline [SocketSite]