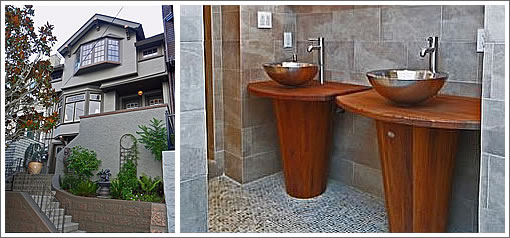 As we wrote a little over two weeks ago:
The listing for 65 Caselli expired without generating a sale (as far as we know). If the seller is in fact "motivated" to sell, we wouldn't be surprised to see the properties return under a new broker. (And perhaps another new price…)
As a plugged-in Trip writes today:
I see that 65 Caselli, oft-featured here for the, um, interesting, bathroom, and significant price reductions is newly listed again. I believe it's now at an even further reduced price, and, of course, "officially" now on the market for 1 day.
And in summary: Originally listed a little over four months ago at $2,295,000, expired a few weeks ago at $1,699,000, and back on the market today at $1,649,000.
∙ Listing: 65 Caselli Avenue (3/4) – $1,649,000 [MLS]
∙ And Sometimes It's Simply The Sinks (65 Caselli Avenue) [SocketSite]
∙ We Have A Motivated Seller! (But Still Seeking A Motivated Buyer!) [SocketSite]