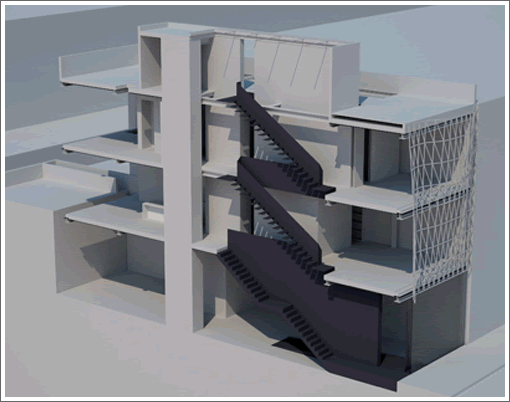 It's one of three new buildings rising (as opposed to being razed) in San Francisco's South Park. And unfortunately for all those who have inquired, it's not going to hit the market upon completion.
Designed by Ogrydziak/Prillinger, 70 South Park (aka "Gallery House") will house an art gallery on the first floor above which the two gallery owners and art collectors will (or at least can) reside. Renderings, floor plans, and construction photos are available on the Ogrydziak/Prillinger website. And it's the facade that particularly stands out.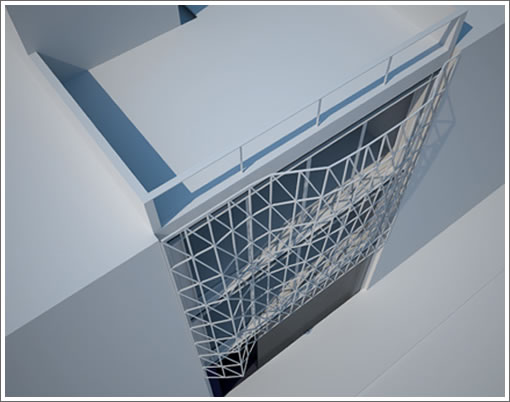 From Ogrydziak/Prillinger:
The upper and lower thresholds of the project are developed as an indefinite edge, not quite inside or outside. The gallery addresses the street through a condensation wall, a vitrine that distends and articulates the physicality of the liminal condition. Above, taxonomy studies exhausted potential code interpretations for a protective shroud that optimizes privacy and transparency on the domestic floors. A scaffold-like structure supports a semi-transparent screen and projects away from the primary glass curtain wall as an parametric illustration of the Planning Code constraints that trigger the typical San Francisco bay window. The swollen space between the minimum-surface area tessellations of the projecting shroud and the curtain wall accommodates a balcony for the living room and master bedroom, and extends over the entry to provide shelter and a view of visitors from within.
We'll take their word for it. And tomorrow, we'll take a look at the building(s) next door.
∙ Gallery House (70 South Park): Renderings Floor Plans Construction [oparch.net]
∙ Will Sand Studios Be Making A Statement At 136 South Park? [SocketSite]