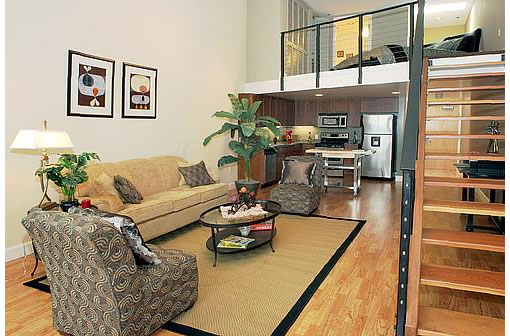 Last August we had a chance to walk through the apartments turned condos at 767 Bryant. Our seven month old summary:
…while we found the sales team to be quite friendly, the soundproofing from street noise to be surprisingly good, and a number of the units to be quite spacious (and bright), we're struggling to rationalize the "value" of these condos.
Irrespective of the location, the quality of the finishes in the units we toured are not competitive with other million dollar (plus) condos on the market. The bathrooms are a far cry from "luxury," the kitchens didn't strike us as being particularly "chic," and in the tri-level units, the scale of the lower levels seemed off.
For the most part these units are large and functional. But at these price points, we're wondering if buyers won't demand more.
Well, after being withdrawn from the market at least four units have now returned sporting new appliances, incentives, and lower prices (reduced up to 7%). Oh, and a "MOTIVATED SELLER!" (but no word on the bathrooms).
∙ Inside 767 Bryant [SocketSite]
∙ Listing: 767 Bryant #206 (2/3) – $889,000 [MLS]
∙ Listing: 767 Bryant #207 (2/3) – $889,000 [MLS]
∙ Listing: 767 Bryant #405 (1/2) – $629,000 [MLS]
∙ Listing: 767 Bryant #406 (1/2) – $629,000 [MLS]