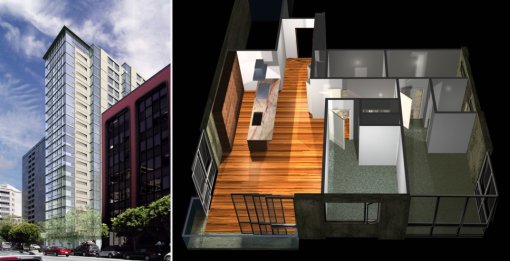 Construction is underway on 631 Folsom, a 21-story, 120-unit residential tower with a story of retail at its base. Malcolm Properties is leading the development of the Handel Architects design.
The design for 631 Folsom Street incorporates goals established in the Rincon Place, the Transbay Plan, and the General Plan for downtown San Francisco by creating a high-density project that preserves sunlight and air, provides open space, and enhances the development of the area.
The massing is tall and slender to maintain view corridors, provide sunlight and air at street level, and give units natural light. The light-colored pre-cast concrete, the bluish glass, and metal curtain wall give the facades an expression of lightness and transparency.
The tower is expected to be ready for occupancy in 2008 and we're keeping our fingers crossed that the dual sliding glass corner doors made it into the final design. Any readers have any additional information or insight to share?
UPDATE (10/30/06): Alas, according to a reader the dual sliding glass doors were cut from the final design. And yes, we're disappointed.
∙ Handel Architects [handelarchitects.com]